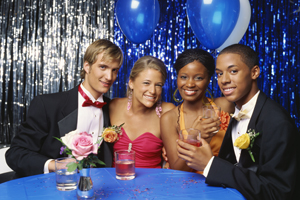 While prom night is stressful for parents and teens for many reasons, parents should never overlook safety. However, many parents aren't aware of simple—yet effective—tips for making sure their teens stay safe on such a high-pressure night.
Parenting expert Erika Katz who has a popular blog, bondingoverbeauty.com, discussing issues of the tween and teen years, has put together her top safety tips for prom night:


1. Get the phone numbers of your child's prom date and at least five friends so you can reach someone. Inform your child, you expect them to answer their cell phones and texts should you call them.
2. Give Your Kids a Curfew. There is nothing your kids can do after 2am that they can't do before 2 a.m. It's not a trust issue, it's a safety issue. Do you really want your kids roaming around after 2 a.m?
3. Remind your child that everyone has a camera. With security cameras, phone cameras and video cams everywhere, it is so important your child realizes not to behave in public in a way that might cause them shame if it ended up on Youtube.
4. Colleges can take away what they have offered. A college acceptance can be revoked for illegal behavior and for getting expelled from high school. Prom night is not Vegas. What happens on Prom night can jeopardize their future.
Published: April 2013