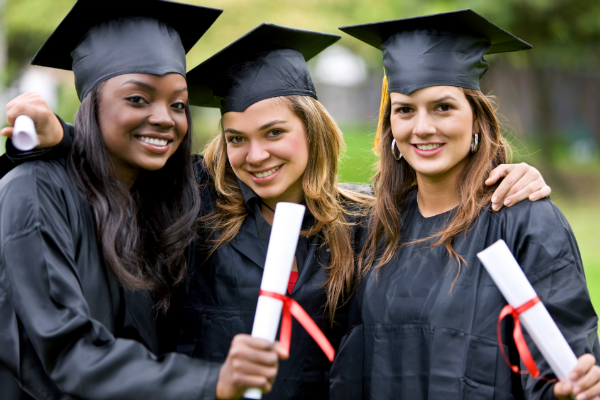 One of my most fulfilling mom experiences was watching my daughter Kate stride confidently across the stage to receive her high school diploma. One of my most terrifying mom experiences? Planning the graduation party.

The graduation party is a big deal. When I graduated in the 1980s, we had cake and punch with the family after the commencement ceremony. I was in bed by midnight. Nowadays, it's not unusual for people to hire caterers, rent large facilities, put up tents in the back yard, and scour Pinterest for the latest elaborate decorating schemes, sometimes spending hundreds, even thousands of dollars.

I'm not a party planner—in fact, my idea of a party is having a couple of friends over for coffee. The more I thought about Kate's graduation party, the more paralyzed I became. After fretting for a month, I knew I needed to set some boundaries. Remembering who the party was for, why we were throwing it, and what we wanted to remember from that day kept my anxiety in check. Perhaps these five rules will ease your mind as well.

Rule #1: This is your child's party.
As we put our guest list together, I asked my daughter to invite people especially meaningful to her. I asked the questions, Who has something to say to you? Who has been formative or encouraging to you in your life so far? Kate's list included friends, family, teachers, youth pastors and coaches.

Rule #2: Keep the occasion in perspective.
Your child did not win the Nobel Peace Prize. Your child did what she was expected to do: graduate from high school. It's an occasion worth celebrating, of course, but not worth going into debt for if you really can't afford it. You can celebrate without hiring a DJ, renting a limousine or hiring a caterer. Balloons, banners and your favorite playlist work fine (not to mention all those high school mementos—see Rule #5). A friend of mine recently gave her graduating senior this advice: Save it for the wedding reception.

Rule #3: Don't worry about the space you have (or lack thereof).
Your house is probably big enough, clean enough and stylish enough. It's tempting to redecorate, add on a room, or hire professional house cleaners before the big event. In my experience attending parties, I rarely notice the space as much as the hospitality and, admittedly, the food! When we hosted my daughter's graduation party, I concentrated on decluttering the public areas of our home, gave everything a wipe-down, and vacuumed after the guests left.

Rule #4: Serve deliciously simple food.
Kate's party was in the afternoon, so I planned to serve three varieties of cupcake, local in-season strawberries and lemonade. At the last minute, though, I discovered the bakery had overlooked my order! Disaster! I zipped to the store in a panic and returned with frosted supermarket sugar cookies, delicious and festive, but not the gourmet treats I had envisioned. To my surprise, my guests loved the cookies—easy to handle, just enough for a snack, and a nice change of pace. One guest actually said, "Wow, cookies! It's kind of refreshing not to see cupcakes." A simple, elegant menu put the focus on Kate, and guests could mingle without juggling heavy plates of food.

Rule #5: Share meaningful mementos.
I'm not bragging, but my daughter really excelled in high school. (OK, maybe I'm bragging a little.) Not only did she have lots of swag, but she also had every ribbon, certificate, book report, pinch-pot or diorama since first grade. As much as I wanted to celebrate every achievement, I also knew our guests would have little interest in seeing every single momento. We put out a few items that represented the accomplishments she was most proud of. I also created a wall display of photos that included some of our expected guests interacting with Kate. They were delighted to see themselves represented on the "wall of fame."

Following these five rules helped me relax on the day of the party, and I was able to throw a great party without a lot of hassle, expense, or food and paper waste. Our family could focus on our guests, snap photos, laugh, wipe away a few nostalgic tears, and celebrate this important milestone. I crawled into bed exhausted, but thankful for warm memories of a great graduation party.

----------
Freelance writer Marianne Peters resides with her husband and two teenage daughters. Her current challenge is learning how to parent a young adult!
Published: April 2015