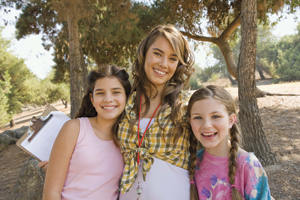 Teach teens mentoring, leadership and responsibility through camp and summer program counseling.
By the time kids hit their teens, not only are they yearning for more freedom, but they are probably also looking for ways to earn some money.
Summer camp counselor is one entry-level job staple for many students. Not only do summer camp counselors get to earn money, but they also have the chance to develop their leadership skills and garner potential references for college.
Most camps fall into two varieties—day camps and residential camps. Talk to your child about which would be the best fit for her. A 16-year-old might fare better starting out at a day camp, while a 17- or 18-year-old high school senior might find that working as a counselor at residential camp is the perfect preparation for going away to college.
What does it take to become a camp counselor? A love for working with kids, patience, flexibility and good decision-making skills are crucial (these attributes should also be mentioned during the interview process).
The minimum age for many camp counselors is 16, so what if your child is younger but would still like to get some mentoring experience? Many schools run after-school sports programs; check with the coach or staff to see if they need volunteers. Also, youth sports leagues are always looking for volunteer referees and assistant coaches, so consider that route as well. Having these experiences under her belt will better her chances for being accepted in a "real" camp counselor position once she turns 16.
Since this may well be your child's first job, practice interviewing techniques with her. Sit down and perform a mock interview to give her a feel for what she might encounter. Make sure she can give examples for any skills she lists. It's one thing to say, "I'm responsible," but another to tell the story about how she earned an award for the most volunteer hours tutoring at her school.
Discuss with her what her responsibilities will entail, and to emphasize that she will be accountable for the safety and well being of the children in her group.
Many camps also have "Leaders in Training" positions, where the child is actually a camp attendee (meaning you pay for her to attend), but she works as a quasi-camp counselor. This is the perfect way to test the waters and see if a full-time position might be a good fit. She'll get experience in leadership, mentoring, conflict resolution and supervision, without the full-time commitment (and headaches) that a counseling job entails.
Becoming a camp counselor is the perfect way to help your child transition from a kid who is dependent on the people around her, into a responsible, self-directed adult. While the transformation will not take place overnight, working as a camp counselor is the perfect incremental step to propel your child along her journey to adulthood, and help your child unfurl her wings as she matures.
_____________________
Mary Hay Davis is a professional writer who lives in Alpine with her husband and two teenage sons, both of whom spent many an idyllic summer week at Camp Marston.