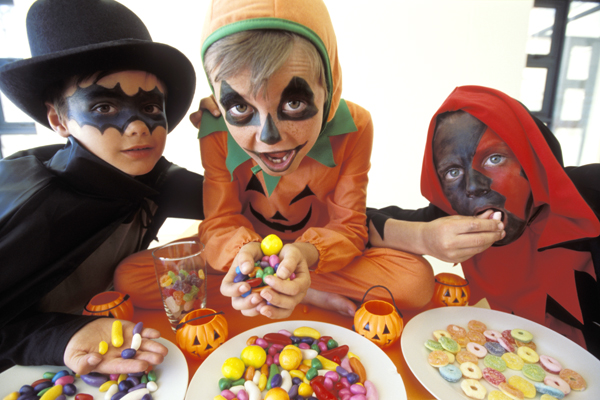 Americans purchase nearly 600 million pounds of candy every year just for Halloween. Much of that will be devoured immediately, but most will linger around the house to tempt you for days and weeks to come. Why not save your family the extra calories by donating leftover candy? With a little effort, you can provide great gifts to people in need of encouragement. This is a good way to teach your children kindness and a wonderful way to remove the alluring sugary treats from your home.
Support the Troops:
Sell to a Local Dentist
Be sure to visit the Super Dentists for their annual Candy Buy Back! Kids who bring in a pound of candy receive $1 and another dollar is donated to a local nonprofit. All candy collected will be sent to U.S. Service members serving overseas! For more information, visit www.TheSuperDentists.com or call (760) or (619) DENTIST (336-8478). To send your own care package directly, visit OperationGratitude.com for guidelines, or go to www.halloweencandybuyback.com to find a buyback near you.
Operation Stars & Stripes, Inc.
With Operation Trick-or-Treating, our Halloween candy can be sent to troops for the holidays. Visit OperationStarsandStripes.org for more information.
Operation Shoebox
Individually wrapped candies are accepted throughout the year to help boost morale overseas. Visit OperationShoebox.com to get the mailing address for donations.
Candy for the Troops

Contact the nearest VA Hospital or VFW Chapter
Show appreciation to the veterans that have served our country by donating excess candy to a local VA Hospital or community center.
Support Unsung Heroes:
Local Police and Fire Departments
Give back to those working hard to keep your community safe. Share a few of your Halloween candies to say thank you.
Mail Carriers
Leave a treat for your mail carrier. It will be a nice boost during the busy holiday delivery season.
Teachers and Schools
Take the candy to your kids' teachers to use as rewards in the classroom or just as a token of appreciation.
Support Those in Need:
Homeless
Contact your local soup kitchen, shelter, food pantry or religious center. Home-cooked meals are always a priority for those in need, but candy will be a luxury they don't normally get.
Food Baskets
If you're planning to make dinner or purchase groceries for a family in need this holiday season, throw in some candy for a nice treat.
YWCA
The YWCA is the largest provider of battered women's shelters and domestic violence services in the country, helping thousands of women and children annually.
Visit YWCA.org to find the nearest location and donate your extra candy to children who may not be able to enjoy the Halloween festivities this year.
Support People in Your Community:
Elderly
Visit a nearby nursing or retirement home, or even an elderly neighbor. A goody bag filled with sweet treats will make their day.
Nurses
Show appreciation to the nurses and staff at a local hospital. Share some goodies with those caring for sick members of the community.
It's never too early to learn the importance of giving back. Start a new tradition this year and have your kids donate a portion of their candy to a good cause. Sharing their wealth of treats will make Halloween that much sweeter.
--------------------------
Katie Mohr Chingirian is a stay-at-home mom to a 2-year-old daughter. Katie and her family live in Glendale, CA. These generous ideas helped put two pounds of candy to better use last Halloween.
Updated: September 2018