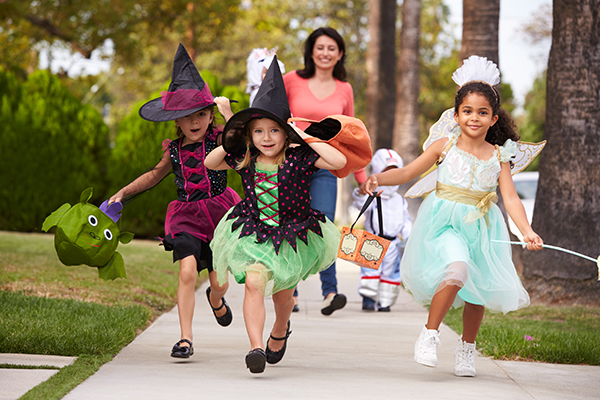 There aren't many holiday traditions that render children as giddy as Trick-or-Treating. None of the other thrills of Halloween—decorating the house, wearing a favorite costume, carving pumpkins, attending a school carnival—stack up to the sheer magnificence of collecting candy from each of the neighbors. Check out these tips for a fun, safe night of Trick-or-Treating!
Keep Track of your Crew
It's best to stick together on Halloween. Keep everyone in sight with matching glowsticks or reflective tape. Little ones can be corralled in a wagon or stroller. If your group is large, assign buddies to look out for one another.
Dinner First
Eat before you go, so kids can dive straight into the sweets when they get home. Full bellies might also prevent them from sneaking bites of candy before you've had a chance to inspect it.
Be Cautious
Remind kids to stay on sidewalks and doorsteps. Stress that they should never approach a vehicle or enter a house to accept candy.
Establish a Timeline
Tell kids what time you're heading home and stick to it. Consider the one-hour rule: One hour of Trick-or-Treating that concludes at least one full hour before bedtime. It's a school night, after all! Take toddlers out as early as possible, when there's more visibility and fewer big kids in scary costumes.
Safety Check
Before the kids dig in, check candy and collected items for anything that could have been tampered with. Toss all candy with loose or missing wrappers and remove homemade treats. Better safe than sick!
Candy Rules
Establish house rules about Halloween candy and make them known in advance. Some parents set a limit on the number of candies kids may consume each day—understanding that this rule requires several days of diligent monitoring. Other families allow kids to eat all they want on Oct. 31, with the expectation that the rest is donated the next day. Operation Gratitude distributes candy donations to deployed troops and first responders. Alternatively, many local dentists offer prizes or cash in exchange for Halloween candy. Get more great ideas at "12 Ways to 'Give Back' Halloween Candy."
______________
Anne Malinoski is a contributing writer and mother of two boys. She'll be escorting Hulk and a LEGO Ninjago this Halloween.
Published September 2018
______________