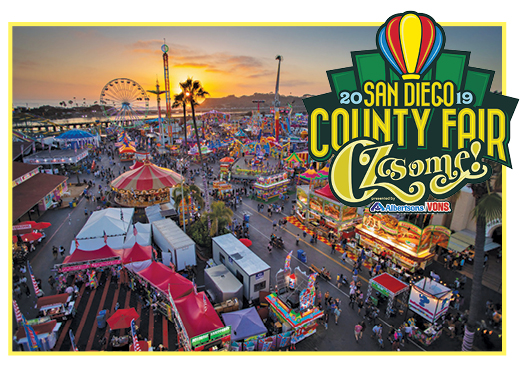 Make the most of the San Diego County Fair with these hints (and reader tips below).


How do kids get into the Fair for FREE? There's more than one way!

KIDS' DAY at the San Diego County Fair is every Friday — Kids ages 6-12 are admitted free on Kids' Day.
Kids ages 5 & younger are ALWAYS free at the Fair.
Kids (ages 6-12) get into the Fair for free on ANY day when they read 10 books and have this READING CERTIFICATE signed by a teacher. The Reading Certificate is available in English and Spanish.


Tickets and Ride Promotions

The BEST PASS EVER is the San Diego Fair's best value season pass - attend the fair for 27 days for just $32.
If your family loves the fair rides, check out ADMISSION & RIDE PACKAGES, that offer savings of up to 50 percent.
What's NEW: FunPass and FastPass
Brand new at the Fair this year: a FUNPASS eliminates the need to keep track of paper tickets! FunPass is a card or app that guests load with pre-purchased ride and game tickets. The FunPass barcode is scanned for the correct amount at each ride or game. If you don't use all your tickets in one day, use the FunPass the next time you come to the Fair. Need more tickets? Reload the card at a ticket booth. The app even allows parents to buy tickets and send them to their kids' phones!
Also new this year: a FASTPASS allows guests to use FastPass express lanes for rides. Here's what you need to know: the number of FastPasses issued daily is limited; FastPasses are only sold at Fair ticket booths; cost is $20 per person (plus cost of tickets); FastPass is valid only the day of purchase.

Family Fun
Don't miss the San Diego County Fair Scavenger Hunt available for kids! Upon completion of the questions, participants may purchase an official Fair Fun Patch for only $2. Learn more and download the scavenger hunt map HERE.
Family Fun CONTESTS take place every day. Participate in old-fashioned games, relays, watermelon seed spitting, pie eating, and lots more. Read all about contests and competitions HERE.
New Fair Food
Read all about the food at the San Diego Fair at https://sdfair.com/what-to-do/food-and-drink/.


Concerts and Entertainment

Love the San Diego County Fair concerts and music festivals? Get the full concert schedule HERE.


Dates and Hours

The 2019 San Diego County Fair opens May 31 and runs through July 4. The Fair is CLOSED Mondays and Tuesdays in June. Find out daily hours (and Fun Zone hours) HERE.


Getting to the Fair
Don't want to pay for parking? Consider taking public transportation (the Coaster, Sprinter, Breeze bus, MTS line) to the fair. Fair Tripper Combo tickets include Fair admission and round-trip public transportation. Learn more HERE.


Sensory Inclusion
To make a visit to the Fair more enjoyable for guests with Autism and other sensory sensitivities, the San Diego County Fair offers two Sensory Stations, noise-cancelling headphones and other tools for families with special needs, at no charge. Learn more at sdfair.com/plan-your-visit/guest-services and visit the Guest Services Office in the East Grandstand for more information.
---
Tips from San Diego Family readers:
Snacks & Drinks
Keep snacks handy in your purse or backpack, including juice boxes. It helps to keep kids happy and distracted during long waiting times.

We freeze water bottles the night before and carry a grocery freezer shopping totes. Keeps cool water most of the day, saving you money at the fair.

Take along a small cooler bag with fresh snacks (sliced apples, string cheese, nuts). Allow for one major "fair food" treat for the day.

Getting There & Parking
Take a shuttle from a distant parking lot. Kids will love the ride on a bus!

Take the train (Amtrak) and enjoy a relaxing ride before heading to the fair. It drops you off close enough and it helps the environment. So much fun for the entire family.

Safety
I always take a picture with my cell phone [of my kids, when we arrive] so if they get lost, I can show what they are wearing. I also write my phone number on them.

Everyone in the family wears the same colored shirt to keep track of each other.

Make sure everyone knows where Guest Services, Lost & Found or a designated meeting place is.

On Having Fun
Give everyone - even the little kids - a disposable camera (if they don't have phones) to take random pictures of the fair through their perspective. Have them write down highlights of the day with a few choice photos they have taken.

Visit the collections exhibit. It's not only interesting and educational, but gives the kids ideas of what collections they can start.

Go when the fair opens (even on the weekends) and it's not so crowded.

Don't forget to record how your kids react to new foods that they have never tried!

As we go through the arts exhibits, whoever finds a first prize winner with their same name wins a prize that is wrapped and waiting at home.

Plan Ahead
Find out online what time the shows are. Plan ahead; get there early and have fun.

Purchase tickets ahead of time, the lines can be long for excited kids!
Updated: May 2019