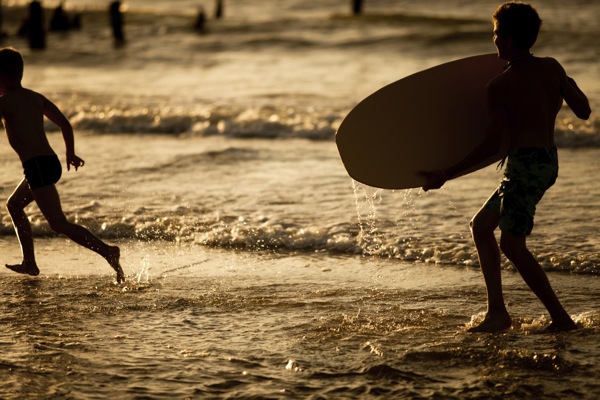 If you're a working parent, summer may bring a certain amount of anxiety, knowing that you have to work all day while your kids are out of school. You might ask yourself, "What can we do together to make the most of the summer season?"
Our A-Z list of things to do with your kids after 3 p.m. will provide some relief. Planning one special afternoon or evening activity a week with your kids could mean that you'll have a fun-filled summer after all!


We've provided Websites and phone numbers when available, so you can easily confirm dates, times, admission prices and other pertinent details.


Arts & Crafts
Get artsy at your local ceramic café. Try Color Me Mine in Santee, or Clay 'n' Latte in Carmel Mountain, 858-487-9293 or Vista, 760-726-9293. You can also check your local library for free arts & crafts evening activities.

Belmont Park Family Nights
This Mission Beach amusement park offers half-price tickets on five different rides (including the Giant Dipper Roller Coaster) on Tuesdays from 4 p.m. to closing. www.belmontpark.com. Go to Boomers for Full-Throttle Thursdays (unlimited miniature golf and go-karts for only $14.99 after 3 pm). www.boomersparks.com/park/sandiego/.

Camp in your own backyard
Pitch a tent and fire up the barbecue. You'll have the time of your life and you don't even have to pack the car! Participate in the Great American Backyard Campout. This annual event, sponsored by the National Wildlife Federation, is a great way to introduce children to the joys of camping. Visit www.nwf.org for fun activities and recipes. Attend a free summer Concert (check SanDiegofamily.com for locations & dates). Check out the latest hot rods and vintage cars at the Cajon Classic Cruise, Wednesdays from 5 - 8 p.m. www.downtownelcajon.com.

Drive-in Movies
Head to the South Bay Drive-in, located in Imperial Beach. It offers a variety of snacks and three double-features daily. 619-423-2727. Looking for a fun place to go out for dinner? Enjoy 50's décor and rock n' roll at the Corvette Diner.


Explore a tidepool!
There are many great places to go tidepooling in San Diego. Try Cabrillo National Monument, www.nps.gov/cabr/, or Shell Beach on Coast Boulevard in La Jolla. Experience wildlife! Visit www.naturefind.com and type in your zip code for a list of local places to walk, bike, camp and fish!

Fridays at the Fleet
The Reuben H. Fleet Science Center in Balboa Park offers four different IMAX films at a great savings every Friday (only $7.50 each); the first film starts at 6 p.m. www.rhfleet.org; 619-238-1233. Visit a local farmer's market; it's a great way to teach your kids the importance of supporting local growers and to get them excited about fruits and vegetables!

Ghirardelli's Soda Fountain & Chocolate Shop
Stop by this famous chocolate shop for a fudge-covered ice cream sundae! 643 Fifth Ave, 619-234-2449. Family Game night! A few of our favorites: Apples to Apples Jr., Jenga, and Life – so much fun, you may want to do this every week!

Hike through Torrey Pines State Reserve
You'll find eight miles of trails, beaches, a lagoon, plenty of birds and beautiful ocean views. www.torreypines.org. Take a Harbor cruise on San Diego Bay, 888-467-6256, www.hornblower.com.

Ice cream—make it at home!
Find some great recipe ideas and tips for homemade treats at SanDiegofamily.com.

Jump on a trampoline with your kids! It's great exercise and tons of fun!
Stop in at Java Mama café–a unique, family-friendly coffeehouse in La Mesa. The Website details the free activities and classes offered each week. www.javamama.com.

Kites in the sky
Fly a kite at Mission Bay Park (over 4,000 acres surrounding Mission Bay) or Ellen Browning Scripps Park, 1133 Coast Blvd, La Jolla. Kids eat free at Ruby's Diner in the Mission Valley Mall on Tuesdays after 4 p.m. (one free kid's meal with each paying adult), 619-294-7829. Find more Kids eat free deals here!

Lazy evenings
Put your pj's on early, make pancakes for dinner and watch a family-favorite movie! Make Lasting memories! Take fun photos of your kids, put out some stickers and markers and enjoy an evening of scrapbooking. Laugh, laugh and laugh some more! It's good for your heart, your soul and your health!

Movies Before the Mast
Enjoy an outdoor movie festival on the Star of India.

Nickel City Family Nights
Nickel City is an arcade with over 120 fun games to play. Weekday Family Nights (Mon-Thurs) include pizza, soda and games for four for only $19.95. Located in Carmel Mountain. www.nickelcitysandiego.com
Night fishing at Lake Poway, 858-668-4770; Dixon Lake, 760-839-4680; or Santee Lakes, 619-596-3141.

Organize a block party
Ask everyone to bring an appetizer to share, have a neighborhood scavenger hunt and serve root beer floats or snow cones for dessert! View our digital issue of SDFM's annual issue Out & About for lots of ideas on great places to go and fun things to do!

Picnic at the park
Better yet, take your picnic to one of the many fabulous oceanfront communities in San Diego and watch the sunset. Tour Petco Park before an evening Padres game. Did you know that you can get a behind-the-scenes look at the ballpark for a very reasonable fee? www.padres.mlb.com.

Quiz kids
Pick up a copy of The Kids' Book of Questions by Gregory Stock and spend some quality time going through it as a family. This book asks thought-provoking questions that are fun, as well as some that will ignite very interesting conversations. You're sure to learn things about your kids you never knew!

Rock 'n' Bowl
at Mira Mesa Lanes, every Thursday from 3 - 5 p.m. Only $5.00 per bowler includes two hours of bowling and shoes! 858-578-0500.

Stargaze the friendly skies at Mission Trails Regional Park, www.mtrp.org.
Start a collection! Whether it's shells, stamps, rocks or coins this hobby can open a whole new world for your family. For great tips and ideas, visit www.smithsonianeducation.org and go to the Smithsonian Kids section.

Tandem bikes and surries can be rented from Bikes & Beyond. Hop aboard and cruise around Coronado, 619-435-7180.

Ultrastar Cinemas offers discounted movie tickets on Tuesdays. www.ultrastarmovies.com
Use your Crock Pot to make dinner! Yes, we usually save this appliance for the colder months, but hey – who wants to turn the oven on in the middle of summer? If you have a Crock Pot – use it! Get the Fix-It and Forget-It Cookbook or visit www.tastycrockpotrecipes.net for recipe ideas.

Volunteer your time!
Give back to your community by contributing your time and talent at one of many local organizations around town. This is a great way to spend time with your kids and promises to be a rewarding experience. Check out San Diego Family's Donations, Volunteers and Local Fundraisers page or the Totally Teens page for special volunteer opportunities for teens. Take in one of San Diego's breathtaking Views from the top of Cowles Mountain in San Carlos, www.mtrp.org or from Mt. Soledad in La Jolla, www.soledadmemorial.com.

Waves of fun
Visit the Wave Waterpark in Vista; 760-940-9283, or Aquatica SeaWorld's Waterpark, in Chula Vista. Go swimming at the pool or learn to surf on the FlowRider (42" minimum height) at the Wavehouse in Mission Beach.

Xpress yourself
There are many wonderful classes offered at the Xpressive Arts Center in Poway. Try beading, mask making, drawing or hula classes! 858-679-2787.

Yoga It's a great way to stay fit.
Frog's Fitness Clubs offer evening yoga classes for ages 13 to adult. You can also check your local YMCA for family yoga classes. www.ymca.org

Zoo at night
Enjoy special evening activities (4 p.m. to 8 p.m.) at the World Famous San Diego Zoo all summer long! 619-231-1515.



-------------------
Lisa Gipson looks forward to doing lots of evening activities this summer with her three daughters.