Comic-Con 2019 is just around the corner which means there's no better time to make a plan with your family. Local author and comic book enthusiast Richard Andreoli shares insider tips and tricks your family needs to know to make it the best Comic-Con ever!
Comic-Con with the Families 2019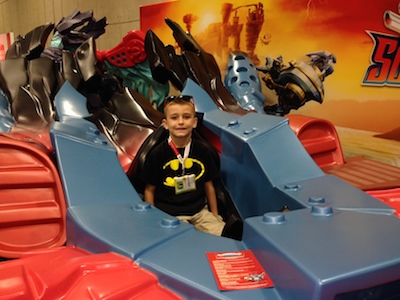 Q: Is there a behind-the-scenes "secret" few people are aware of at the convention?
A: When you attend panels for a favorite show or movie, watch the side entrance doors near the front of the stage. Right before a panel starts, you'll often see one of the side doors open and security usher in some people to seats. These are often studio execs, producers, writers or people who work on the project in some capacity. If you're a super fan, you'll likely recognize their names from the credits.
In my experience, these folks are really friendly and willing to chat after the panel. It goes without saying, but just be polite when approaching them.
Q: What are some tips for first-time attendees?
A: Comic-Con is huge and the best way to get the most from the event is to have a plan. Two weeks prior to the convention they release the programming schedule. It's super fun to sit with your family and plan out what events you want to attend. One helpful scheduling tip is that the convention includes a symbol indicating family-friendly events for young attendees.
The biggest mistake inexperienced attendees make is not properly planning when they'll eat. Be sure to schedule that into the list of panels you want to attend and time you'll spend on the exhibit hall floor. You should also have snacks and water on hand, because concession lines are long and finding a local downtown restaurant can take time.
Q: What are the benefits of families attending together?
A: There are multiple benefits of families attending fan conventions together. The first is that it can help remove parents' fears of the unknown. In the 1980s there was the "Satanic Panic," which had parents worried that Dungeons & Dragons would turn their children into devil-worshipping demons. Had any adult visited a gaming room at a convention, they would have immediately recognized that those fears were unfounded. In fact, now D&D and other role-playing games are used as therapy to help kids develop social-emotional skills.
So when parents attend a convention with their children, they can see the comics, animation, shows and movies that their kids love. They can meet the creators and understand their work better. You'll also meet other fans and their parents, and start to understand the larger community that's out there.
But by far the most important benefit is that it shows your child that you're taking an interest in them and the things that they're passionate about. It's a place where you can connect over a shared experience that's unlike anything else in the world. Those are memories you can share for life.
Q: How did the attendance/culture change from "sci-fi geeks/enthusiasts" to families?
A: There have always been families at convention, but those numbers have steadily increased over the last decade. I think convention culture evolved as collectors aged. The fans who attended conventions in the 1980s and 1990s grew up, had families and wanted to share those passions with their kids and loved ones. Then, comic book properties were adapted into successful TV and film franchises, which created more fans.
Q: Has the entertainment industry changed the culture of Comic-Con for the better? Are there benefits of this shift or are there any nostalgia moments you've missed in recent years?
A: I think the entertainment industry has helped mainstream Comic-Con and other fan conventions, making it more common and socially acceptable for fans to admit that they enjoy these stories and characters.
But the truth is that a huge bulk of Comic-Con's programming is actually dedicated to comics. From big companies like DC and Marvel talking about their new projects, to indie companies, self-publishing, art portfolio reviews and workshops on how to break into the comics industry, it's all there. If you're a comics fan, there is always something to see and do, artists and creators to meet, and it's far easier to access those people than it is to see a celebrity when you're in a 5,000-seat ballroom watching the cast of the newest CW show.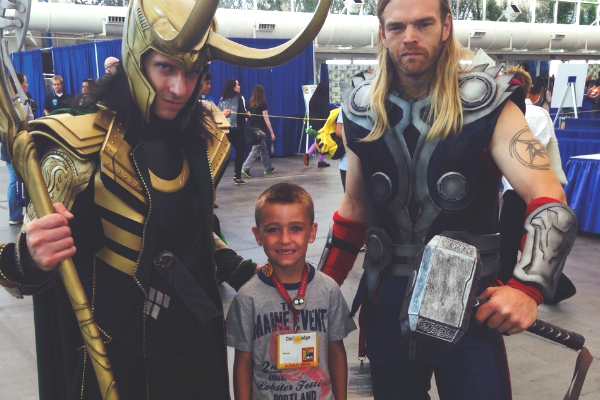 Q: How family-friendly is the convention? Anything too mature/too old for parents to keep in mind?
A: Comic-Con in San Diego is a very family-friendly event, with a lot of programming geared toward young attendees. While there are some risqué cosplayers in skimpy costumes, conventions have a dress code so kids won't see anything that they wouldn't see on a public beach. Also mainstream conventions don't allow adult material on the exhibit hall floor. There's very little chance your kids will stumble into anything too graphic.
For especially young kids, it might be good for them to understand that this is a place for fun and fantasy. Explain in advance that there will be people in costume, and some of them may even be super heroes or villains they recognize, but they're safe as long as they stay with you.
Q: What character is your all-time favorite and why?
A: I grew up watching Super-Friends and the Lynda Carter Wonder Woman series, so my favorite characters are Batman, Superman and Wonder Woman. To me, this trio represents the ideals of heroism: humanity overcoming adversity (Batman), acting with our best intensions (Superman) and embracing hope for the future (Wonder Woman).
I know there's been a draw toward darker comic book stories over the past few years, but the world feels dark enough some days. I need my fictional heroes to show me that there's hope in the world, and for me those three characters deliver that.
Q: Can you share a favorite memory?
A: When I brought my niece to the convention for the first time. She's a huge fan of The Walking Dead series and Gerard Way, from the band My Chemical Romance, who's become a popular comic book creator. She got to meet him and get his autograph. It made her entire year, and I was able to experience Comic-Con all over again through her eyes. It reminded me of the excitement and joy these conventions bring young people and why I think they're so important for our culture.
Richard Andreoli grew up in San Diego and was a Comic-Con volunteer for many years. He is the editor-in-chief of the tech/parenting website Parentology.com, and his new novel, Battle at the Comic Expo, is available now. For more information, visit BattleAtTheComicExpo.com.