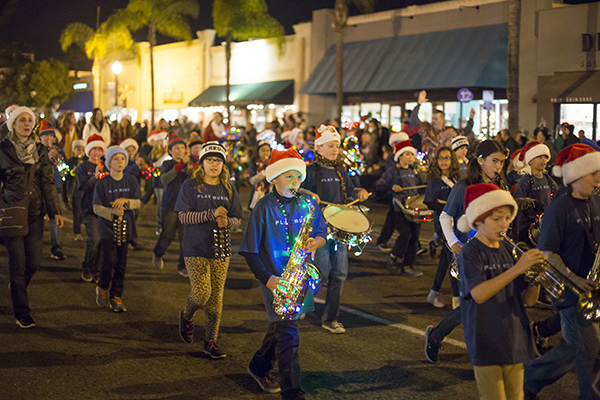 Festive Christmas parades are coming to town! Take the family to enjoy sparkling lights, stunning floats and sleighloads of ho-ho-holiday cheer!
Vista Christmas Parade. This year's theme: "A Candyland Christmas." Dec. 1, 1 pm. Historic downtown Vista Village. For parade route, visit www.vistachamber.org.
Chula Vista Starlight Parade & Children's Faire. Parade travels along Third Ave., from H to E Sts., on Dec. 1, starting at 6 pm. The Children's Faire will be held at Memorial Park (373 Park Way) from 2-5 pm.
North Park Toyland Parade. Marching bands, vintage cars, dance groups, city officials and other parade entries at this annual parade that travels down University Ave., between Utah & Iowa Sts. Dec. 1, 11 am-1 pm. www.toylandparade.com.
Ocean Beach Holiday Parade: "It's a Wonderful Life." Dec. 1, 5:05 pm. www.obtowncouncil.org.
Encinitas Holiday Parade. This year's theme: "Botanical Oasis." Parade entries will march, roll, cycle, scoot and cruise down Coast Hwy. 101 on this magical evening. Dec. 1, 5:30-7:30 pm. Santa will make a brief appearance at the Lumberyard courtyard (near Starbucks) at 5 pm. www.encinitasca.gov.
Fallbrook Christmas Parade. Lighted floats, dancers, marching bands, classic vehicles and Santa at this annual parade with the theme, "A Toyland Christmas." Dec. 1, 5 pm. Along Main Ave., downtown Fallbrook. www.fallbrookchamberofcommerce.org.
Kiwanis Club of San Marcos Holiday Parade. This year's "Super Hero Holiday" parade starts at Palomar College then travels east on Mission Rd., turns right onto San Marcos Blvd., and ends at the San Marcos Civic Center. Dec. 2, 1 pm. www.san-marcos.net/santasvillage.
La Jolla Christmas Parade: "The Sounds of Christmas." Parade travels along Girard Ave. Dec. 2, 1:30 pm. Also, don't miss the Holiday Festival with live entertainment and photos with Santa from 10:30 am-1 pm. 1008 Wall St. (in front of the Athenaeum Music & Arts Library). www.ljparade.com.
Alpine Village Christmas Parade of Lights & Snow Festival. Glowing floats, vehicles, children's units and other entries are featured in this hometown holiday celebration parade that travels down Alpine Blvd. Festival is at the Alpine Creek Town Center (1347 Tavern Rd.) that includes free sledding, kids' activities, entertainment, Santa and vendors. Dec. 7, 6:30-9 pm. www.alpinechamber.com.
Holiday Parade & Open House in Coronado. Parade starts at 8th & Orange, then travels along Orange Ave. to R. H. Dana. Dec. 7, 6 pm. www.coronadochamber.com/holiday-parade.html.
Escondido Jaycees Christmas Parade. This year's theme: "Wild About Christmas." Parade travels south on Broadway, from Escondido High School to Grape Day Park. 9:30 am. After the parade, come to a holiday festival at Grape Day Park that offers cultural performances, piñatas and other activities. Dec. 8, 11 am-7 pm. www.escondidojaycees.org.
Oceanside Harbor Parade of Lights. See festively decorated boats in the Oceanside Harbor. Dec. 8, 7 pm. www.oceansideyc.net.
San Diego Bay Parade of Lights. Approximately 80 lavishly decorated boats at this year's parade with the theme, "A Tropical Island Christmas." The parade starts at Shelter Island and proceeds to Harbor Island, the Embarcadero, Seaport Village, the Pier at Cesar Chavez Park, and ends at the Ferry Landing in Coronado. Dec. 9 & 16, 5 pm. www.sdparadeoflights.org.
Pacific Beach Holiday Parade starts on Garnet Ave. and Haines St., and travels down to Bayard. Dec. 15, 1-3 pm. www.pacificbeach.org.
Vet + Pet West Gaslamp Holiday Pet Parade. On Dec. 16, the parade steps off at 2 pm from under the iconic Gaslamp Quarter Archway, continues up Fifth Ave. to E St., then down Fourth Ave., ending at MLK Promenade Park (401 K St., downtown San Diego) where the Holiday Pet Market is held from noon-5 pm. $15-$20 per pet participant in the parade.
Port of San Diego Holiday Bowl Parade. America's largest balloon parade includes spectacular floats, world-class marching bands and gigantic balloons (look for Family Magazine staff pulling one!). Dec. 31, 10 am. On Harbor Dr., downtown San Diego. www.holidaybowl.com.
------------------------------
Published December 2018
–––––––––––––––––––––––