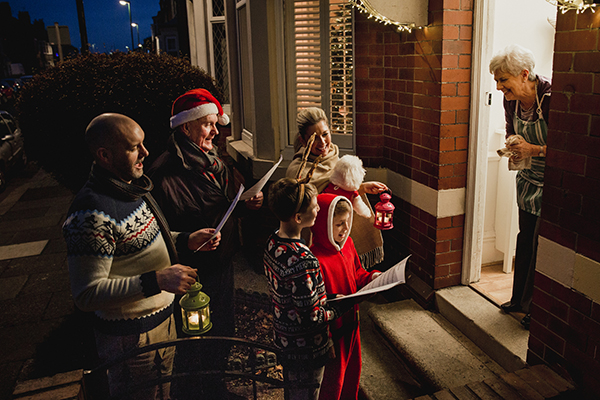 'Tis the season for shopping, baking, cooking special meals, holiday decorating, and celebrating with friends and family. The holidays are an exciting time for many, but all that fun can stretch the pocketbook. No matter your budget, families can enjoy meaningful traditions that won't break the bank. Here are fun budget-friendly holiday traditions for families.
Make cookies for Santa (and others).
Bake special cookies for Santa and set aside a few dozen to deliver with the kids to local firefighters or police officers. Find festive recipes at www.sandiegofamily.com/things-to-do/dining-and-recipes.


Have a Christmas movie marathon.
Watch your favorite Christmas movies as a family while enjoying popcorn, hot cocoa and candy canes. See our list of suggested movies below.


Craft tree ornaments.
Gather the family to make a new ornament each year. When the kids move out they will have a box full of decorations for their own tree. Or make other festive decorations. Get ideas at www.sandiegofamily.com/for-the-kids/crafts-for-kids.


Countdown to Christmas.
Create a homemade advent calendar with construction or scrapbook paper. Learn how to make ours, which encourages family togetherness: www.sandiegofamily.com/crafts-for-kids/art-with-alyssa-25-days-til-christmas-advent-calendar.


Listen to holiday tunes.
Play Christmas music every morning while getting ready for school/work.


Take a neighborhood lights tour.
Load up the family car and tour Christmas lights in the area. Don't leave home without our famous Map of Christmas Lights: www.sandiegofamily.com/things-to-do/san-diego-s-best-map-of-christmas-lights.


Provide a meal.
Check the needs of a local food pantry and help them stock up on holiday dinner items.
Find other local organizations that need help in "Put Gratitude into Action" at www.sandiegofamily.com/things-to-do/donations-volunteers-and-local-fundraisers.


Don family pajamas.
Pick out matching pajamas for the whole family to wear on Christmas morning (and take an annual photo!). For low-cost options, use plain colored t-shirts and matching flannel pants.


Bless others.
Let the kids pick out a new toy to donate to a local organization that provides gifts to children in need. Consider donating old toys to charity before new gifts arrive.


Visit Santa.
Take the kids to visit Santa, or write him a letter and mail it.


Organize a coat drive.
Start by going through your closet to gather jackets and warm clothing you don't wear anymore. Ask neighbors to do the same. Collect new socks, hats and gloves. Donate items to a local charity that benefits the homeless population.


Take a sleigh ride.
Ha! A sleigh ride may be a great way to get in the holiday spirit, but in San Diego, a horse-drawn carriage ride is more doable. Don't forget the hot cocoa.


Go caroling.
Gather friends and family to go caroling in your neighborhood or at local nursing home.


Plan a holiday hunt.
Fill plastic eggs with candy or hide candy canes around the house and let the children look for them.


Make reindeer food.
Mix rolled oats with red and green sugar sprinkles. Have the kids sprinkle it on the lawn before bed for reindeer to snack on while Santa visits your house.


Read holiday books.
Collect Christmas and other holiday books, wrap them in festive paper, and have the kids open and read one each day leading up to Christmas. Consider adding one new book to your collection each year.


Have a Christmas tree campout.
After trimming the tree, get out the sleeping bags and "campout" next to it for the night.


Eat Christmas breakfast.
Have a special breakfast Christmas morning. A breakfast casserole that can be prepared night before lets you enjoy the morning with family.
18 Holiday Movies for Families
Polar Express
It's a Wonderful Life
The Santa Clause
Miracle on 34th Street
The Christmas Story
Elf
How the Grinch Stole Christmas
A Charlie Brown Christmas
Mickey's Christmas Carol
Home Alone & Home Alone 2
A Christmas Carol
Prancer
The Nightmare Before Christmas
Frosty the Snowman
Babes in Toyland
Rudolph the Red Nosed Reindeer
The Muppet Christmas Carol
Klaus
Sarah Lyons is a freelance writer.
__________