The arrival of Fall means San Diego families are planning an apple picking trip to nearby Julian. Known for delicious apple pies, Julian is home to many apple farms where visitors purchase and/or pick their own apples.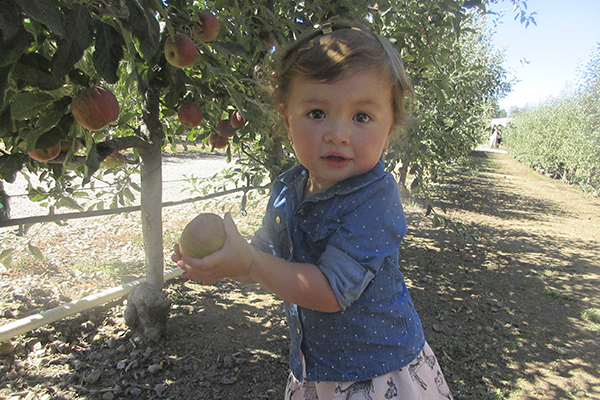 Kennedy (age 2) picks apples at Volcan Valley Apple Farm.
Plan ahead -- Apple picking season typically begins in September (sometimes even the end of August) and continues through October or sooner if orchards run out of apples. Below are U-pick apple orchards in Julian (about 40 miles northeast of San Diego). Check each orchard's website or Facebook page for updated information about this year's apple crop, including dates and times of apple picking, and when apples are no longer available.
Apples and Art
1052 Julian Orchards Dr., Julian
760-310-6368
www.applesandartorchards.com
Exclusively for groups of 20 or more—reservations are limited. Opens Sept. 6. Email This email address is being protected from spambots. You need JavaScript enabled to view it. for reservations.

Apple Starr Orchard --CLOSED for the 2018 season
1020 Julian Orchards Dr., Julian
760-305-2169
Calico Ranch--CLOSED for the 2018 season
4200 Hwy. 78, Julian
858-586-0392
www.calicoranch.com
Estimated opening: mid-Sept.
Corcoran Ranch-- CLOSED for the 2018 season
16790 Highland Valley Rd., Ramona
760-500-1214
www.corcoranranch.com
Check website for updates.
Peacefield Orchard
3803 Wynola Rd., Julian
855-936-2775
www.peacefieldorchard.org
Soft-opening planned for Sun. Aug. 19. Tours by advanced reservation only. All visitors are required to purchase a Guided Tour ticket.
Volcan Valley Apple Farm -- now CLOSED for the 2018 season (as of 9/24)
1284 Julian Orchards Dr., Julian
760-302-4574
Estimated opening day is Fri. Sept. 7. General admission is $2. Free for children 5 and under. Open 9am-5pm Mon-Fri. Check for updates on Facebook.
Prefer to venture outside of San Diego County? There are a number of U-pick apple orchards in Oak Glen (two hours northeast of San Diego), including Riley's Farm, Snow-Line Orchard and Los Rios Rancho.
Not sure what to do with all those freshly picked apples? Find tasty recipes in our Apple Recipe Round-Up.

----------
Updated: Sept. 2018