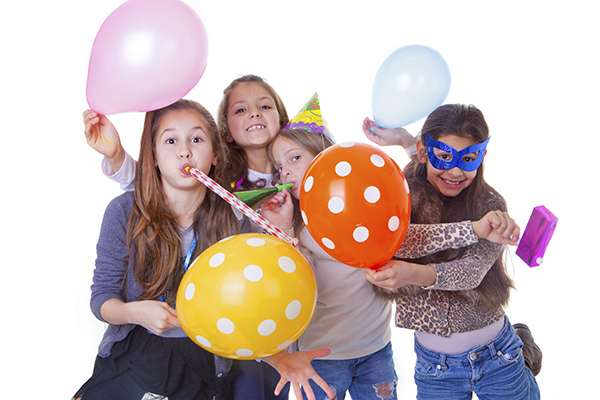 Celebrating New Year's Eve was an adults-only event, until I had kids. When I became a parent I had no desire to leave my kids at home with a babysitter, so we made New Year's Eve family friendly and still have a good time. Here are ways to celebrate the New Year with kids.

1. Get Gussied Up or Dress in Theme
Why only wear holiday clothes once? They don't last with growing kids. Put the special clothing on, along with added bling for the evening. Our sons have worn suit coats and bowties; our daughters have been bedazzled with sequins, boas, and lace along with their dresses.

Tired of the holiday clothes? Decide on a theme. Perhaps it will relate to your dinner cuisine, perhaps not. It doesn't matter since it is your party. One year we ate Italian food and wore Halloween costumes. Be sure to take pictures!

2. Make a Special Meal Together
We've created our New Year's Eve dinner in two ways. We have chosen a cuisine (e.g. Indian, Mexican, Chinese) and cooked a multi-course meal in that style. We have appetizers, vegetable, meats, desserts, etc. We have also asked our children what they want for each course and then put it to a vote. There are six of us so we always have at least six options during the meal.

3. Have a Progressive Feast
We love a movable meal. Each course is served in a particular room of our house. Some years we get the china out; other years we mix it up. My kids love to picnic all over the house, so we have beach blankets set up in the rooms we will eat in. Candles are a must. They add ambience and specialness to this last evening of the year. They are lit throughout the house.

My kids help shop, prepare and cook since they are older. Younger kids can assist by setting tables or getting out ingredients. Be sure to go over the recipes ahead of time. Some ingredients may prove challenging to find.

4. Bubbles and Glow for Everyone!
My husband and I celebrate the New Year with a glass or two of champagne. Our kids get glasses of sparking apple or grape juice in champagne flutes.

Glow stick necklaces, along with whatever else you decide to dress up in, are fun. We buy glow stick necklaces in bulk, something we began doing when our kids were very young. They still love to wear them, even fashioning crowns and bracelets out of them. We also fill balloons and hang them in each room we are dining in.

5. Play Games
We are passionate about cards and board games. Any night home is an excuse to sit down and play games. Consider getting a new game or two to play or teaching the kids how to play Bridge or Euchre if they are old enough.

6. Dance and Sing
Create a playlist of party songs to listen to or go with music that resonates with the theme you have chosen. One year we listened to NSYNC and the Backstreet Boys; that music unearthed a lot of memories and reminiscing.

7. Cheat on the Time Zone
Do you have younger kids? Why not celebrate New Year's as it happens in another time zone? This is something I did when my kids were young. Staying up through midnight was difficult for them (and us!).
Ringing in the New Year with kids can be lots of fun! You also generate a new family tradition in the process of creating a memorable evening, one sure to be passed down by your kids to theirs.

----------
Judy M. Miller is a freelance writer living with her husband and four children. She looks forward to celebrating another New Year with her family.