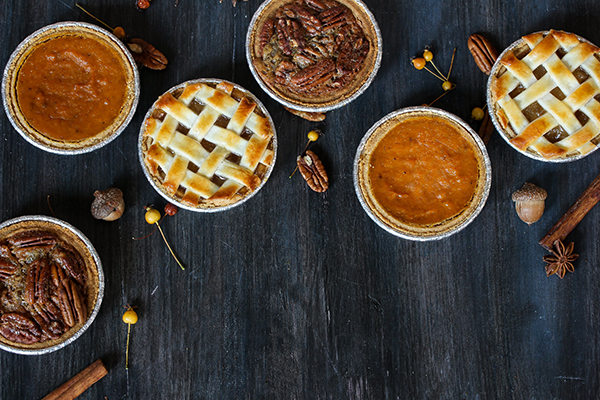 If you don't have time (or desire) to make pie this holiday season, pick up delicious pies at one of these favorite San Diego pie shops.
Crafted Baked Goods
2820 Historic Decatur Rd. (Liberty Public Market), Point Loma
www.craftedsd.com
Whole pumpkin pies, bourbon-chocolate pecan and apple pies when available. Pre-order is suggested. Order by Nov.19 for Thanksgiving.
Extraordinary Desserts
1430 Union St., Little Italy
2870 Fourth Ave., Bankers Hill
www.extraordinarydesserts.com
The name says it all – these desserts are truly extraordinary, and the pies are no exception. Choose from seasonal flavors such as pumpkin coconut, chocolate pecan and more.

Sugar & Scribe Bakery and Fine Goods
7660 Fay Ave. Ste. 1, La Jolla
www.sugarandscribe.com
Offering a huge selection of delicious sweet and savory pies, Sugar & Scribe Bakery is the place to go to satisfy your pie craving. Seasonal pies are available for pre-order 72 hours in advance. Gluten-free pumpkin pies are also available.

Elizabethan Desserts
114 N. El Camino Real, Encinitas
www.elizabethandesserts.com
Offering everything from a Pumpkin Crumble pie to a classic pecan pie, Elizabethan Desserts offers a pie to delight every dessert seeker.

Bear Buns Bakery and Café
3251 Greyling Dr., Serra Mesa
www.bearbunssd.com
The Bear Buns Bakery and Café is your seasonal pit stop for a heavenly whole pecan, pumpkin, and apple pie. Pre-orders available early to mid November.

Debbie's Restaurant & Pie Shoppe
740 Nordahl Rd. #114, San Marcos
www.debbiesrestaurantandpieshop.com
Debbie's Restaurant & Pie Shoppe is known for its homemade confections. Choose from a variety of fruit, cream or specialty pies that are in season, such as pumpkin and pumpkin pecan. Pre-orders available Nov.1.

Betty's Pie Whole
114 El Camino Real, Encinitas
www.bettyspiewhole.com
At Betty's Pie Whole, pies aren't just for dessert. Try your share of savory pies (Boyd's Breakfast Pie or Thanksgiving Pie); then satisfy your sweet tooth with a Cherry Lattice, Pumpkin Crumble or Chocolate Cream Pie. Order your pie today!

Julian Pie Company
2225 Main St., Julian
21976 Hwy 79, Santa Ysabel
www.julianpie.com
Famous for a selection of delectable flaky and crumb apple pies, Julian Pie Company offers homemade goodness every time. Be sure to try boysenberry apple, pumpkin and Thanksgiving pot pie too.
Mama's Kitchen
3960 Home Ave., San Diego
www.mamaskitchen.org/events/mamas-pie-in-the-sky
Each November, dozens of San Diego restaurants, bakeries and caterers donate thousands of yummy pies to sell at Mama's Kitchen's annual Pie in the Sky bakesale event. Delicious apple, pumpkin, pecan and crunchy Dutch apple pies are available for preorder. Pie proceeds provide lifesaving meals delivered directly to Mama's Kitchen clients.
Mom's Pies
2119 Main St., Julian
4510 Hwy. 78, Julian
www.momspiesjulian.com
Masters of traditional apple pie (and several variations), Mom's Pies is a favorite stop for visitors and locals alike. For a change of pace, try their delicious apple dumplings! Order desserts in store or online.
----------
Updated: October 2019