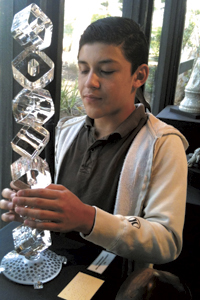 Chula Vista's Ricardo Herrera was one of the 60 finalists to compete in the final round of the 2012 National Braille Challenge. Ricardo, then 12, put his knowledge of the Braille code to the test in the only national academic competition for blind students in the country.
More than 900 blind students, representing 42 states and two Canadian provinces, participated at the local level in the preliminary round. The process is different from spelling bees. Contests include reading comprehension, Braille speed and accuracy, proofreading, spelling and reading tactile charts and graphs.
"It's a series of timed tests," Ricardo says. "You complete each section and turn it in." Judges score the entries. First, second and third place winners are awarded based on total points.
"This competition is unique in that it tests a very specific skill. It gives us the opportunity to bring the issue of literacy for blind children to the attention of the public," says Nancy Niebrugge, director of the Braille Challenge. "Most of the participants who make it to the national competition are the only blind students in their school. They go through their entire lives being the exception. The Braille Challenge gives them the opportunity to build camaraderie among kids who have shared similar life experiences."
When Ricardo was 1 year old, he lost his sight due to an infection. From kindergarten through sixth grade, Ricardo was a San Diego Unified School District student. This fall, he transferred to South Bay.
Leia Morgan, Ricardo's sixth grade teacher at Marston Middle School in Clairemont says his curiosity and drive have made him an expert with accessible technology.
Ricardo likes to experiment with audio equipment and learn different computer codes to help him improve applications and create his own music and videos.
"I take music twice a week," says Ricardo, who plays piano, keyboard, drums, violin and a bit of guitar. "I enjoy doing covers of popular music, everything from Eric Clapton and music from the '60s to current tunes."
"Ricardo is also passionate about reading and writing," says Morgan, commenting that he downloads audio books constantly. "I love to read," says Ricardo, "especially science fiction and fantasy. I am working on writing a novel, too." He is currently creating a personal website where he can post and share his many projects, including his music compositions, novels and other writings.

Preparing to Win
Sponsored by Braille Institute of America, the Braille Challenge encourages blind children to fine-tune their Braille skills, which are essential to their success in the sighted world. Participants ages 6 to 19 compete in categories requiring them to transcribe, type and read Braille at a furious pace using a device called a Perkins Brailler. The competition features a diverse group of high achievers from across the country. Most were born blind, others lost their sight due to cancer or viral infections, but they all share a tenacity that drives them to succeed in spite of their challenges.
Ricardo, who turns 13 this month, encourages other blind and visually impaired students to "give the competition a try. A lot of the categories are subjects they've already done in school," he says. "I visited the [Braille Institute] website to download the sample contests. On most days, I practiced with samples from the website and added some of my own."
The first- through third-place winners in each age group won awards ranging in value from $500 for the youngest group to $5,000 for the oldest. Freedom Scientific Corporation has donated the latest adaptive equipment for the winners—the Focus 40 Blue—an adaptive computer device with a refreshable Braille display.
"The kids who participate in this competition are going to be well placed to keep up with the challenges of living in the 21st century," says Niebrugge. "They have mastered a form of literacy that has been around for nearly 200 years."
To learn more, visit www.brailleinstitute.org.
>>Look for Ricardo on the cover of our 2013 Flourishing Families: The Parent Resource Guide for Children With Special Needs.

------------------
Claire Yezbak Fadden is an award-winning freelance writer and mother of three sons. Follow her on Twitter @claireflaire.
Published: September 2012