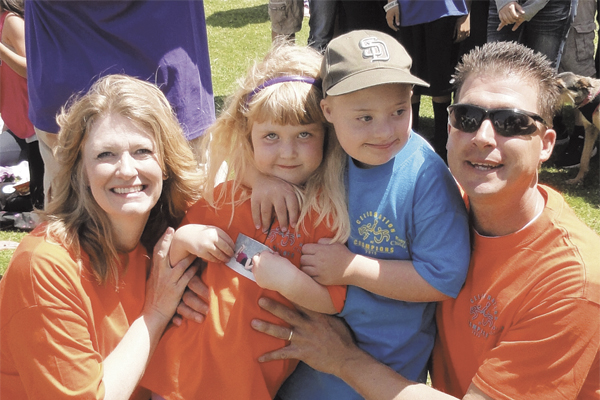 "Each person she serves needs her, every baby who goes through the clinic that she opened. Without her that wouldn't exist," says Michael Hank. "If they didn't go there, their parents would be doing what we did with Adam. Just doing our best to figure out what Adam needed and hoping we were getting good advice."
Michael Hank is talking about The Down Syndrome Center located at Rady Children's Hospital. His wife, Sharla Hank, is the president of Down Syndrome Action and instrumental in making the center a reality. Its mission is to meet the unmet needs of people with Down Syndrome.
Starting a charity is far from easy, but Sharla has a knack for networking and making things happen. Drawing on her own experience with her son Adam, who has Down Syndrome, her plan was to start small and grow from there. The charity chose to serve children ages 0–5 initially because of the importance of early intervention.
"You have no idea when your baby is born what his abilities will be," Sharla says. "It's so important to fully immerse yourself in this early intervention."
Sharla says that at the time of DSAction's beginnings, there was no Down Syndrome center in California. Now, families who utilize the center have access to physicians and specialists who really want to help. An entire team waits to walk them through their journey.
These journeys can challenge even the most informed and connected parents, like Sharla and Michael. Just before Adam's third birthday, he was diagnosed with Acute Lymphoblastic Leukemia. Three months after opening the Center, Adam was admitted to the hospital for a month. Then followed three and a half years of treatment consisting of chemotherapy every day by mouth, weekly blood draws and chemo into his spine to stop the cancer from spreading to his brain.
"We would wonder whether Adam would live through the night," says Michael. "We've had to do things with Adam that we didn't want to do. Give him medicine that he didn't want to take."
Adam, now 8, sits beside his sister Nicole, 5, laughing at something silly on his dad's phone. It's hard to imagine all that he has had to go through in his young life.
"I would have 10 more kids with Down Syndrome but with no leukemia," Sharla tells me.
Sharla and Michael welcomed their daughter Nicole into the world during the beginning of Adam's treatment, and yet another challenge arose. Nicole was born with a particular kind of cleft palate that leaves a hole in the back of the throat. Sharla was told that Nicole wouldn't be able to nurse, but she had heard that once before with Adam because of Down Syndrome, and didn't let it stop her. Sharla pumped every day for five months until Nikki had surgery. An hour after surgery she was nursing.
In fact, whatever challenges Sharla faces spur her into action, which eventually spreads over the community like a warm blanket. Her stories of the right people coming along at the right time to make things happen are inspiring, but she is only one person and needs help, too.
"DSAction is bursting out of the seams, and we need more business people involved," Sharla says. "But we still want the grassroots feel."
Sharla says whatever people can do is what she needs.
"If you think you want to inspire and make a change you should do it," says Sharla.
---
Contact the DSA
www.downsyndromeaction.org
www.facebook.com/dsaction
A Ride of Inspiration Fundraiser: September 29, 2013
San Diego Harley-Davidson
www.facebook.com/arideofinspiration
Celebration of Champions
Celebrationofchampions.com
---

----------------------
Laura Pardo writes from the San Diego neighborhood of South Park.
Published: August 2013