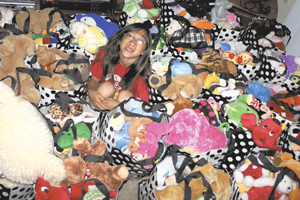 Jessica Carscadden recently donated 70 bags of cuddly bears and other stuffed animals, reaching her goal of putting one bagful in every emergency response vehicle of the San Diego Fire Department. This is an amazing achievement for anyone, much less a 10-year-old. Jessica, a fourth grader in 4S Ranch, got the idea while cleaning her room (another praiseworthy feat).
"We live across the street from a fire station so I thought about giving the local police and fire departments bags of stuffed animals to keep in the trunks of the cars and trucks. That way they could give them to kids who may be scared or injured." Jessica's simple idea transformed into We Care Bears, and is responsible for donating some 1,000 bears in San Diego County.
"I want every child who is scared to have a bear to huggle," Jessica says, "but I am only one girl and I already donated all of my animals to the fire department, so I made a plan. With our principal's OK, I asked the whole school to donate stuffed animals." As a result, Jessica was able to triple her original goal of outfitting 10 response vehicles with We Care Bears.
Abandoned by her birth parents due to facial defect, Jessica spent five years in a Chinese orphanage. "She lived in that orphanage until my husband, Bob and I adopted her," says her mother, Kathleen. "Five years without parents to tuck her in at night, or kiss a boo-boo or offer a hug. Jessica didn't have a single thing to call her own." Kathleen feels those early years were when Jessica developed her deep compassion to help other children.
Every bear donated through We Care Bears has a business card greeting from Jessica. "This is a great way for parents to encourage their kids to get involved. It's children helping children. I like that it's a learning opportunity for children. It's truly is a 10 year-old's project," says Kathleen. "Jessica doing Jessica's thing."
To learn more or to donate unneeded, gently used stuffed animals, visit http://wecarebears.webs.com/apps/blog.

-----------------------
Claire Yezbak Fadden is an award-winning freelance writer and mother of three sons. Follow her on Twitter @claireflaire.
Published: February 2013