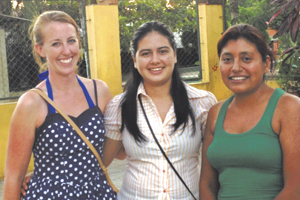 Emily Moberly fell in love with reading almost before she fell in love with anything else.
"I think it was the way books took me places," says the 26-year-old Banker's Hill resident. "And—not to sound too cheesy—the way they put the whole world in the palm of my hand. Through reading I had great adventures and met extraordinary people. I explored the jungles of India, took my first trip to Africa, faced danger and solved mysteries."
With a goal to outsmart poverty one book at a time, Moberly started Traveling Stories in 2010. The nonprofit organization provides books to communities that have none and offers free literacy coaching to struggling readers in San Diego.
The concept came to her after graduating from college when she moved to Honduras to teach high school English.
"This was the first time in my life that I lived in a place with almost no access to reading material. I realized how much I need books and I saw how the lack of books was impacting my students," Moberly says. "I decided that as their English teacher I would do all I could to make them fall in love with reading. So, for Christmas I went home and when I returned to Honduras I brought with me 40 books which I introduced to my students as 'Ms. Moberly's Library.'"
The books were a hit. All of her classes used them daily. Even other teachers asked to use the books for their classes. Since then, Moberly's organization has opened libraries in Nicaragua, El Salvador and South Sudan. Traveling Stories is currently fundraising to offset the cost of shipping books this April to establish four libraries in the Philippines.
"This isn't just a charity that gives free books to people. We want it to be a way to share cultures. To connect kids all over the world as they express their ideas about books and reading," says Moberly. Her hopes are high for Traveling Stories.
She reminds us that "we can only accomplish so much by ourselves. Like the African Proverb says, 'If you want to go fast, go alone. If you want to go far, go together.'"
To learn more or get involved, visit TravelingStories.com.

------------------------
Claire Yezbak Fadden is an award-winning freelance writer and mother of three sons. Follow her on Twitter @claireflaire.
Published: February 2013