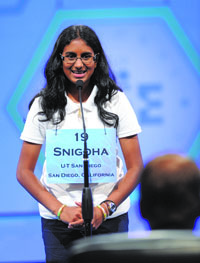 Snapshot: Snigdha Nandipati
Favorite Word: cywydd (Welsh), a kind of poetry split into triplets.
Pastime: Working on jigsaw puzzles. Playing piano and violin.
Interests: Collects unique coins from around the world. Her favorite is a hexagon-shaped coin from Israel.
Reads: Whodunits and adventure books, especially Sherlock Holmes mysteries and John Grisham novels.
Other Languages: Fluent in Telugu, a South-Central Dravidian language primarily spoken in the state of Andhra Pradesh, India.

Scripps National Spelling Bee
More than 11 million spellers compete in the nation's largest and longest-running educational program of its kind. Cincinnati-based Scripps administers the not-for-profit competition. The majority of local spelling bee sponsors are daily and weekly newspapers.
In addition to the trophy from Scripps, Snigdha received a $30,000 cash award, a $2,500 U.S. savings bond, a complete reference library from Merriam-Webster and other prizes. www.spellingbee.com.
---
Not many teenagers read the encyclopedia for enjoyment. Snigdha Nandipati is an exception. In fact, one of her favorite pastimes is reading random facts in encyclopedias and other texts, particularly about science or history.
"It's really interesting and it's a great way to learn a lot of words," says the Francis Parker School ninth grader.
In May, as an eighth-grader, she won the 2012 Scripps National Spelling Bee in the 13th round after correctly spelling the word guetapens (meaning an ambush, snare or trap). At the start of the contest, 278 participants had qualified to compete in this year's event by winning locally sponsored bees in their home communities.
"I've been interested in words since I was little," says Snigdha, 14. "The first time I wanted to participate in a spelling competition was at the end of third grade. Our teacher had a class spelling bee using the words we had learned from the school year. I came in second place, because I didn't spell ferocious correctly."
Her parents, Madhavi and Krishnarao, nurtured her early interest. "My dad started researching local spelling bees," she recalls. "That's how it all started."
Preparing to Win
Last year Snigdha participated in the national spelling bee and tied for 27th place. "Last time, I knew if I didn't do well, I still have next year to compete," she recalls. "This year, though, I knew I had to put everything I've learned into this one moment, so I studied a lot more and with more intensity." Snigdha trained nearly an hour every day. "By the time, the competition was two months away, I was up to studying five or six hours a day."
Snigdha has this advice for students who love spelling and want to compete: "Go online to find spelling bees that are held nearby," she says. "It's a great way to get started. They supply word lists. Use them to build your own."
The high school freshman has her vision set to the future. "I plan to study medicine in college and become a neurosurgeon or psychiatrist," says Snigdha. "I want to work with the brain. It's fascinating to me that the brain is so small compared to the rest of your body, but controls everything that goes on inside you." All that spelling practice will give Snigdha an edge—most medical terms come from Latin and Greek.
----------------------
Claire Yezbak Fadden is an award-winning freelance writer and mother of three sons. Follow her on Twitter @claireflaire.

Published: September 2012