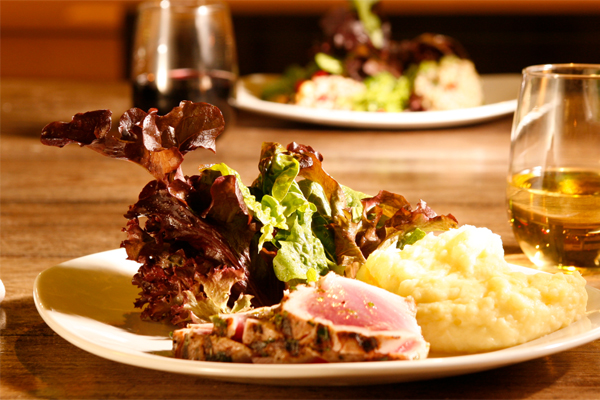 Tender Greens
110 West Broadway, Downtown San Diego
619-795-2353
www.tendergreens.com


Where can you take one picky 11-year-old, two foreign exchange students, two American teenagers and a husband (on your anniversary!) out for a nutritious meal that everyone is happy with? Tender Greens of course.
How incredibly lucky for us that Tender Greens has opened a third location in San Diego. The new Downtown spot is adjacent to the Sophia Hotel facing West Broadway. Perfect for hauling in the whole out-of-town crew after a shopping spree in the Gaslamp District or walk over after enjoying Seaport Village.
Have a bulky stroller in tow? Bring it right into Tender Greens where the space between tables is wide enough that your stroller can park right next to you. Have a large party? Reconfigure a few tables and you're in business. I even spotted a table for 16 ready to go.
Now for the best part, amazingly healthy and delicious food that's served lickety split. Choose from several ways to have your chicken, steak or albacore, including as a Big Salad, a Hot Plate or on a toasted ciabatta sandwich. Vegetarian or vegan? There are plenty of scrumptious offerings for you, too.
After you agonize over the "too hard to choose from menu because everything sounds mouth watering," watch your feast come together as you make your way to the cashier. You know that feeling you get at the Farmer's Market as the vibrant colors and tantalizing smells of the fruits and veggies find your senses? That's exactly what's waiting for you at Tender Greens.
On the evening of my 19th wedding anniversary, I splurged on the day's special. Pan roasted yellowtail, butternut squash puree, Brussels sprouts and a Little Gem salad with heirloom tomatoes and cabernet vinaigrette. At just under $12 (the most expensive thing on the menu) it's the best deal in town. Oh, and yes it's as good as it sounds.
Our excited young diners also added to our ticket two Backyard Marinated Steak plates, a Chinese Chicken salad, Beef Stroganoff Stew and lots of sides that were passed around, including Baby Arugula salad, grilled veggies and "the best mashed potatoes ever." Every plate was unabashedly scraped clean with our garlic herbed crostinis.
For dessert? Crème Frâiche Meyer Lemon Pie, a Toffee Blondie, a Lemon Bar, a Chocolate Flourless Bouchons and a very large Salted White Chocolate cookie! Are you feeling completely envious yet?
Well, envy no longer and take yourself and at least one person you love to the new Downtown Tender Greens. It would just be too awkward to "ooh" and "aah" at a table all by your lonesome.

--------------
Laura Pardo writes from central San Diego.

Published: November 2013