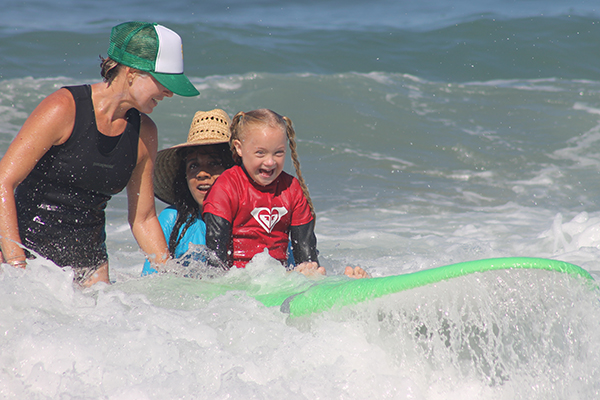 Surfing Madonna Oceans Project, a non-profit dedicated to protecting our ocean and coastlines, opens registration this month for their annual Surfing Madonna Surf Camp for kids with special needs.
Located at Moonlight Beach in Encinitas, camp sessions are scheduled twice per month, May through September. Campers, ages 3-17, work one-on-one with a professional instructor and two volunteers during each two-hour surf lesson. No swimming or surfing experience is required, and surfboards, wetsuits, water and snacks are provided. There is no cost to participate.

"There hasn't been a surf camp yet where we haven't seen a complete transformation of the majority of the children," says camp co-director Megan McCarthy. "Since our first year, we've seen over 100 children go from feeling terrified or anxious to complete happiness and pure joy within 30-40 minutes. You can see their confidence building and a sense of independence growing right before your eyes. It's incredible."

The organization's president, camp founder and co-director, Bob Nichols, has been surfing since he was a small child. "Being in the ocean can relieve stress and bring about a sense of health and happiness," says Nichols. "It's a healing resource and best of all, it doesn't cost anything." With an awareness of how surfing has positively impacted his own life, Nichols created the program to share his passion for the ocean with children with special needs.

Surfing Madonna has two floating beach wheelchairs available to campers, if needed. A plastic mobility sidewalk used for wheelchair access through the sand is also an option.

"We feel surfing gives children the opportunity to explore the ocean as a therapeutic medium for social interaction, creating friendships, gaining a sense of independence, building confidence, strengthening muscles, providing sensory input, motor planning, and developing lifelong skills," McCarthy explains.

Surfing Madonna hires the Surfin' Fire Surf School to bring surf equipment and provide instructors. McCarthy describes the Surfin' Fire staff as patient and fun, helping the kids feel comfortable and enter the water only when ready. The camp experience enriches the lives of not only the kids, but of the dedicated surf instructors, volunteers, onlookers and involved families.

"The kids just love it," McCarthy says. "It's hard to get a lot of them out of the water as they want to catch 'just one more wave.' We've heard children ask if they can take the surfboard home!" While the surfboards stay behind, the kids do take home a personalized surfing diploma, finisher's medal and sponsor goodies – along with a newfound love for surfing. Many campers continue to enjoy ocean activities throughout the year.

First-time participants are given priority registration and returning surfers are placed first on a waitlist, if necessary. Because of the advance registration process, spots are expected to open throughout the summer due to cancellations. Last summer, all waitlisted campers were able to participate. Future plans involve also offering a similar surf camp to adults with special needs.

Surfing Madonna Surf Camp is primarily funded through the annual Surfing Madonna 5K/10K/15K Beach Run, the largest low-tide beach run in the country, held every October at Moonlight Beach. Don't miss the opportunity for kids ages 12 and under to participate in a shortened 1K version of the run. If Encinitas isn't a convenient location, register for the "virtual" option and walk or run in your own neighborhood (you'll still receive a t-shirt). This is a great way to get out-of-town friends and family involved!

Participating in the run, spreading the word about the program, volunteering for camp or donating to the organization are all great ways to help introduce kids with special needs to a life-long love of the ocean. Learn more about Surfing Madonna Oceans Project and surf camp at www.surfingmadonna.org. Register for the beach run at www.surfingmadonnarun.org. Enter coupon code SDFM30 at check out for a 30 percent discount on race registration.
---

Encinitas resident Lisa Pawlak is a contributing writer and mom of two sons.
Discover more camps and enrichment programs for kids with special needs in our Flourishing Families resource listing.
Published April 2016