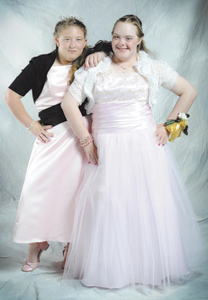 It's a rite of passage that many teens take for granted—attending your senior prom. There is a lot of excitement leading up to one of the most memorable moments of a teenager's life. Prom night can be a very different experience, however, if you're a high schooler with special needs. Teens with Down syndrome, cerebral palsy and autism, for example, can be overlooked in the formal gala.
Several years ago Rob and Cheryl Shields began the process that would change that for many San Diego students. While visiting family in Rockford, Illinois, they attended their former church and watched a video clip of a year in review. One segment highlighted a prom for special needs teens, the congregation had hosted. Those images stayed on their minds long after they returned home to Rolling Hills Ranch.
"It was just a 30-second clip," recalls Cheryl, "and it totally touched our hearts." It took a year for the Shields to put all the gears in motion to host their own prom.
"Once EastLake Church agreed to be the prom site," Cheryl recalls, "I started relentlessly contacting sponsors to donate everything from food, hair styling, tuxedos and printing." The Shields printed up flyers, and Cheryl spent days visiting local high schools and meeting with the special education teachers. The word spread quickly.
"We even promoted the event on our personal Christmas card," Cheryl says. "Although we don't have a special needs child in our family, Rob and I just felt a squeeze on our hearts to do this." The couple began asking friends and family to donate money and send dresses. It wasn't long before their garage was filled with shipments of dresses. Rob and Cheryl hoped to include 50 students the first year, but registration skyrocketed and the first prom maxed out at 300 students. In the second year, the Shields found a bigger room to accommodate more than 550 attendees. This year, they are anticipating a sold out attendance of 800.
The concept is compassionately simple. Hundreds of honored guests with special needs are paired (girls with girls and boys with boys) with a high school-student host who keeps constant company and provides assistance, if needed. During the night, Cheryl and other chaperones have seen friendships develop between the honored guests and hosts, along with understanding, sensitivity and awareness.
Rob and Cheryl are parents to triplets, Caroline, Zach and Hannah, who are very active in helping with the prom. "Since our children were little, we always had them involved with community activities like Ronald McDonald House, or clean-up days," says Cheryl. The trio started volunteering by passing out flyers and helping at prom fittings several weekends before the event. On the big night, they will be dancing with prom guests.

The Total Prom Experience
Realizing that families of children with special needs often have heavy financial obligations, Rob and Cheryl work to ensure everything for the honored guests is provided free of charge: tuxedos, formal dresses, jewelry, flowers, limos, food and a gift bag. With the generosity of sponsors like Chick-fil-A, Eastlake Terraces, Elite Image Limousine, Paul Mitchell the School, Marinello Schools of Beauty, Walmart and many other donors, these teens get star treatment for the night, including a 150-foot red carpet complete with camera bulbs flashing and cheering paparazzi.
Because the Prom is a meaningful event for them, too, many parents, family members and friends of the honored guests don't miss a spectacular moment. They watch the fun via a live video feed from several adjacent rooms.
With Smooth 98.1's deejay Mike V spinning the tunes, dancing to the Black-Eyed Peas was a highlight last year for Justin Savarase, then an Eastlake High School senior. Savarase was born with Down syndrome. His host was David Heinzman, an Eastlake High School junior.
"It was cool to be paired with Justin," said Heinzman. "We talked about school and sports, and we really connected … The limo, the red carpet with paparazzi, the pictures …the whole thing was a great experience."
"It's rewarding to receive requests from guests and hosts asking to be matched with each other again this year," says Cheryl, "and knowing that hosts are including their guest in their social life outside school and on campus."
Justin's mother, Charlene Hall agrees. "This prom provides kids with an important rite of passage they might otherwise miss," Hall says. "It also gives parents an opportunity to usher their kids into something more grown-up … they get to practice good manners and etiquette and to be part of something sophisticated."

How to Help
Although the prom is free for participants, it comes with a big price tag. Business sponsors help offset much of the expense by donating services, but the Shields need to raise about $30,000 each year to make sure each honored guest is celebrated first-class style. There are three ways to participate: contribute money; donate a gently-used formal dress or costume jewelry (all sizes needed); or join the 700+ volunteer team. E-mail This email address is being protected from spambots. You need JavaScript enabled to view it. or visit www.anighttorememberprom.com with questions on how to get involved.
Watch a video from the 2013 A Night to Remember event:
---------------------
Claire Yezbak Fadden is an award-winning freelance writer and mother of three sons. Follow her on Twitter @claireflaire.