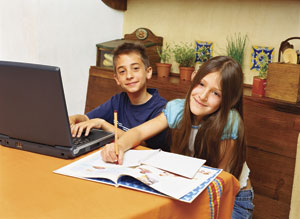 Now that school is in full swing, my children have daily homework assignments. About three years ago, when my oldest son was in 5th grade, I realized I wasn't quite as smart as I thought I was. Even though I am college educated, with a Master's degree even, 5th grade math proved to be a challenge. I certainly don't remember doing pre-algebra in 5th grade, and what's with this "New Math" anyway? Wasn't the old math good enough? Ah, but I digress. Odds are that occasionally you need some help with your child's homework too!


Here are some sites that I've found helpful to have bookmarked:
www.algebra.com
Students can ask a tutor for help with specific problems and get written demonstrations. Lots of samples, problem solving strategies and word problems. Covers almost anything pre-algebra to Geometry.
www.answers.com
Just type your question into the box and search

www.bbc.co.uk
If your child is taking French (or another language), this Website is a great resource.

www.bookadventure.com
If your child participates in the Accelerated Reader reading program at school this is an excellent resource. If not, its a great tool for making sure kids understand what they've read in a fun way. Students can sign up to take reading comprehension quizzes for almost any book. Parents can also sign up to get reports and monitor their student's progress.
www.factmonster.com
This site is like a mini-encyclopedia. It gives facts about all subject area for a variety of grade levels.

www.homeeducationresources.com/FREEphonread.htm
Printable phonics & reading worksheets.

www.homeeducationresources.com/FREEhandwriting.htm
Free printable handwriting practice pages for both print and cursive.

www.kidinfo.com/SchoolSubjects.html
This might well be the only Internet homework site you'll ever need. It links students to sites on every conceivable subject area. If you can't find it here, it probably doesn't exist on the web.

www.math.com
Offers assistance with everything from basic math to calculus.

www.mathfactcafe.com
Touts itself at the Fact Sheet Factory

www.refdesk.com/homework.html
A wealth of information for all grade levels and subject areas.

Discovery Education Classroom Resources
This site is for basic math—addition, subtraction, multiplication and division. Videos and
tutorials explain basic operations and help with mastery skills.

www.sitesforparents.com
This site is a gold mine! There are links to sites for all curriculum areas. You or your
student will be able to download worksheets, create flashcards or play educational games.

The following sites are not necessarily homework related, but they are definitely school related. You'll find a lot of useful things:

www.freecoloringpages.us
This site is one of my kids favorite. It has coloring sheets you can print out from several
popular kids shows and much more.

www.momsbreak.com
Printables for virtually everything—holiday crafts, birthday invitations, gift tag labels and
much more.

I have viewed these Websites and found them suitable for all age levels, but I strongly recommend you preview and/or sit with your child if they visit these sites as content may change at any time.

Freelance writer Angela Chastain lives with her husband and three sons.

---------------------------
ABC's of Internet Safety for Children

Awareness
Always be aware of what your child is doing on the computer. For younger children parents should work with them on the computer or in very close proximity. For older children, being in the room will deter most curiosities but be honest with your child and let them know that you'll be checking up on them.

Bookmark
Bookmarking your children's favorite sites will keep them from searching and surfing and reduce the risk of them seeing inappropriate material.

Caution
Caution your child. Let them know what dangers lurk on the Internet and that they should never give out personal information.

---------------------------
More online resources!

National Education Association
Developed through a joint effort between NEA and National Parent Teacher Association (PTA), these guides provide parents and caregivers with fundamental tools to encourage their children's success in school. Free, printable brochures

Ask Dr. Math
Math help for elementary school to high school

Daily Grammar
Grammar and English lessons

EdHelper
Developed by teachers. Offers extra practice in a range of subjects

How Stuff Works
Useful information on how everyday things work

Infoplease
Almanac, dictionary and encyclopedia

Infoplease Homework Center

Kids.gov
Official kids portal for the US Government. Lots of info about government, US history and facts

Scholastic
Homework help for parents

Starfall
Primarily designed for first grade, this site inspires a love of reading and writing. Starfall is also useful for pre-kindergarten, kindergarten and second grade.