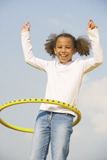 For more than 35 years, the American Lung Association (ALA) has hosted a summer camp so that asthmatic kids can enjoy a traditional summer program pastime without the fear of having a life-threatening asthma attack while far away from emergency medical care. The goal of the summer camp is to help kids have fun in a safe setting while learning to better manage their asthma.

The Southern California Asthma Medical Program, "SCAMP" Camp, happens in the beautiful mountains of Julian at Camp Marston, one of San Diego's most well-known campgrounds. The overnight camp is staffed with round-the-clock care from ALA healthcare volunteers such as doctors, nurses and respiratory therapists. Children between the ages of 8 to 14, who have been diagnosed with asthma, can attend SCAMP Camp. Parents are required to attend a mandatory orientation before camp commencement. The 35 dollar camp fee is due with the application. If money is an issue, SCAMP Camp can work with families on a sliding scale, so that no child with asthma is turned away.

SCAMP Camp hosts an average of 70 to 100 kids each summer with many happy returning campers. Campers stay five days and can expect to enjoy the typical activities such as hiking, arts and crafts, canoeing, archery, games, skits and swimming. Besides the benefit of having medical care, the camp is unique in educating children how to better control their asthma every day. Campers can learn about the anatomy of the lungs and the airways to better understand what happens to their bodies during an asthma attack. They learn about medication options, such as the differences between rescue medications versus controller medications. "Feelings" activities encourage kids to discuss their emotions about being asthmatic and taking medications. Guest speakers will teach them about asthma triggers.


Asthma Camp Resources

SCAMP Camp
www.asthmasandiego.org
Julian, CA
619-683-3465

American Lung Association
www.lungusa.org/site/c.dvLUK9O0E/b.22691/k.A12D/Asthma__Children.htm

YMCA Camp Marston
www.camp.ymca.org/english/index_marston.html

Autumn Johnson is a freelance writer and mom of two young children. They live in Valley Center.