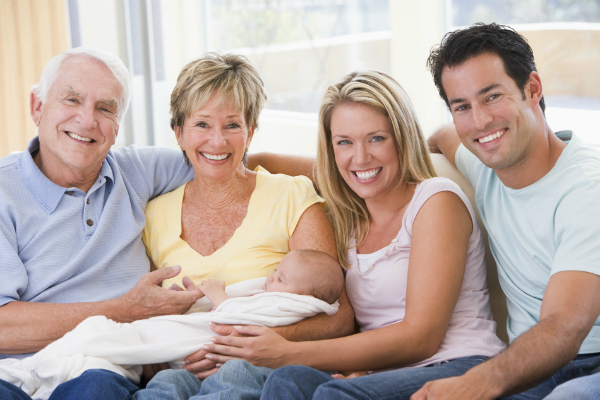 Even if you don't belong to a church or religious organization, you can create your own meaningful and sacred baby blessing.

Your baby's blessing ceremony can be a big occasion with extended family, friends and community. Or it can be an intimate moment, with just parents and child. Whatever you choose, it's a time to focus on honoring your child's life, and promising to do your best to help your child be their best.

As you plan, think about what was important to you as a child; favorite family traditions; new traditions you'd like to establish; if there is a spiritual aspect you would like to incorporate in their upbringing; what it means to you to be a parent. Get creative. Your ceremony might include:

A Favorite Prayer or Poem
A favorite poem or book excerpt from your own childhood is a lovely way to continue the thread of tradition in your child's life. Maybe there is a bible verse or scripture that is meaningful to you. This is a great opportunity to incorporate that reading into the ceremony.

A Family Heirloom
A cherished family heirloom or other meaningful item can connect your baby with your family ancestry and community. This could be a blanket or special outfit, a family brooch pinned on the blanket or something handcrafted just for the occasion.

After the ceremony, frame a picture of this item, so as your child grows you can talk to her about its significance. Maybe you choose a brand-new item with which to begin a new family tradition.

Your Vows as Parents
You are taking this moment to honor the newest member of your family. Focus on your intentions for parenting this child, the promises and commitments you are making to your little one. You might even create a mission statement for your family, something you can always look to when times are challenging. Ask for guidance and support from your friends and family.

Divine Welcome and Blessing
Beyond intentions, vows and support of community, this is an opportunity to invite God or spirit into your baby's daily life, whatever that means to you. You might take this time to begin new daily spiritual practices as a family.

Baby Naming
Many established religions have baby-naming rituals. Again, this is where you can get creative with your own meaningful version. At this point in the ceremony take the opportunity to describe the story behind your baby's name. Perhaps it is a longstanding family name, or something totally unique. Maybe it came to you in a dream. Or perhaps the choice of name changed after the baby was born.

As you plan your baby blessing, remember to think about location. If you don't belong to a religious congregation, consider having the event in your backyard, at the same place you were married, a favorite park or one of San Diego's beautiful beaches. If you choose a public outdoor location, be sure to look into any required permits.
Talk with your ceremony officiant, members of your extended family and those who will play an important role in your child's life (such as grandparents or godparents) about your values, the ways in which you wish to support your baby and welcome them to the family. Together you can craft a meaningful experience for all.

----------
Gayle Feallock, owner of Just Imagine Ministry, is an officiant of nondenominational ceremonies for all of life's most important moments. Learn more at www.justimagineministry.com.
Published: May 2015