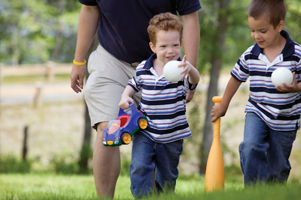 Starting children in an active lifestyle from infancy may not only improve their health, but may also enhance their coordination and confidence, and encourage a lifetime of fitness, experts claim.

According to KidsExercise.co.uk, "Habits formed in childhood are often hard to break...encouraging active play in babies and toddlers helps them to develop strong muscles, improve coordination and boost confidence."

San Diego coach and author Karen Ronney agrees. "If parents participate with their children in developing athleticism at an early age," she says, "those children will be more likely to continue participating into adulthood. Kids who start ahead, stay ahead—in sports, school and life."

The Benefits to Babies and Beyond
Ronney, a former tennis pro, youth soccer coach and the girls' tennis coach at Patrick Henry High School in San Carlos, is not a medical expert, but has worked with children for 25 years. Her book, Proud Parents' Guide to Raising Athletic, Balanced, and Coordinated Kids (2008, Thomas Nelson), is a comprehensive, step-by-step resource.

Included are more than 200 activities and games parents can play with children from birth to age 6 to help stimulate development and promote skills and confidence.

"One of the biggest benefits of starting from birth is neurological," Ronney says. "Babies are born with all the brain cells they will need for a lifetime, but it takes activity, stimulation and movement to link these brain cells together."

"The result of playing games with your kids from birth is a strengthened neural development that later leads to greater intelligence, coordination, talent, creativity and athleticism."

Starting Now
According to various sources, the time is ripe for parents to get their kids moving. Recent reports, including a study by the U.S. Centers for Disease Control and Prevention, claim that the number of overweight children in America is greater than ever, with some putting the figure as high as one out of every three kids. The extra pounds can result in serious emotional and health problems, including depression, heart disease, diabetes and asthma.

The CDC encourages parents to work with their children to promote physical activity, starting when kids are young.

Just 10 Minutes a Day
The parent-child activities Ronney has created can be completed in just about 10 minutes each. They utilize ordinary household items, such as paper, balls and simple toys.

"Even parents with limited time and resources can help their children experience success in the first six years while creating fun memories through family play," she says.

Playtime
Following is a sampling of games that Ronney claims can promote fine and gross motor development, visual stimulation, strength, finger dexterity, range of motion, concentration, flexibility, depth perception, agility, balance and coordination, depending on the skills required. (As with any exercise program, consult a physician before starting.)

Birth to Age 1
In the Spotlight: While holding your baby in a darkened room, use a flashlight to create moving shapes and designs on a wall. Have your baby track the lights with his eyes while you talk to him throughout the game. Keep it to four to six repetitions.

Monkey Business: Dangle a stuffed monkey or other plush toy on a string within striking distance from your baby. Encourage him to swat or swipe at the monkey with one or both hands. Create success by allowing your child to make contact with the toy after a few attempts.

Pull-Up Proud: Place your child in a sitting position on the floor. Hold your baby's hands and encourage him to pull up into a standing position. Hold the stand for about 10 seconds and help your baby sit down again. Repeat.

Ages 1 and 2
Floating Feathers: Toss a handful of feathers into the air. Have your child catch them before they hit the ground, using one- and two-handed grabs.

Giant Stomping: Have your child slowly walk in long, lunging steps to strengthen quadriceps. As with musical chairs, turn on and off music to initiate and end movement.

Roller Ball: Sit on the floor facing your child, with your legs and baby's legs spread apart. Gently roll the ball along the floor toward your child. Demonstrate catching skills: opening the hands before the ball arrives and closing them around the ball on contact.

Age 3
Balloon Tennis: Attach a paper plate to a wooden stick or ruler to make a racket. Hit a balloon back and forth with the racket before it touches the ground.

Beanbag Parade: Place a beanbag on top of your child's head and have him march to music. Then put additional beanbags on his shoulders. Encourage your child to keep a straight back and neck for better balancing.

Coupon Clipper: Have your child cut out coupons on the dotted lines and glue them onto a piece of paper. Supply stickers and markers for him to decorate the paper.

Ages 4 to 6
Golf Ball Races: While carrying a golf ball on a tablespoon, have your child walk five to 10 feet and transfer the ball from one bowl to another. Have him use his dominant (writing) hand first, then repeat using the other hand.

Musical Bouncing Balls: While following the rhythm of music, have your child dribble a ball in place using just the pads of his fingertips and his thumb. After he develops control while standing, have him try walking, then jogging, while dribbling the ball.

Peg-Leg Pirate Races: Place about a dozen toys inside a box about 10 feet from the starting line. Stand your child at the line with his arms extended from his sides for balance. Have him hop on one foot to the treasure chest, pull out a toy, and hop back. Have him switch feet each time.
_____________
Rosemarie Leenerts is a San Diego freelance writer whose four kids at one time or another have participated in soccer, baseball, lacrosse, water polo, flag football, swim, dance, track and cross country.