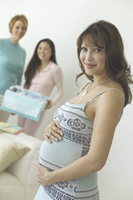 Know a mom (or dad) expecting a second, third or fourth baby? Maybe they already have all the major baby gear, but it's still fun to throw a unique party to celebrate the impending arrival.
Lavish showers are generally reserved for first time babies as a way to "shower" the parents with all the necessary equipment that being a new parent necessitates: high chair, car seat, crib, bedding, changing pads, diaper bags, layette clothes and on and on. Similarly, if there is a long gap in time between babies, a true shower can be a godsend.
But for parents who are already well equipped, there's something called a "sprinkle" rather than a shower. Second or third or fourth babies aren't any less welcome, but generally parents already have most of the major baby items. By throwing some originality into the mix, you can host a party for a second or third time mom that will sprinkle her with something she'll really use and enjoy.

"Helping Hands" Shower
Having subsequent babies means, of course, that there are already little ones at home. Sabrina Hill and Joni Russell, authors of "The Everything Baby Shower Book" suggest throwing a shower where friends get together to help the new moms out. Plan out a calendar and fill in days with babysitting services, grocery store runs, car pool duty, laundry, even garden weeding and flower planting.
"We sometimes call it a 'shower shower' meaning we're going to give mom a chance to get a shower every day," says Hill. This shower works well for moms without family nearby. You're giving them the breaks without them having to ask. Find someone super organized who can coordinate schedules then fill out the calendar: "June 3: Johnny has playdate at Sue's from 10 a.m.- 1 p.m." Or "Round-trip ride to preschool every Monday."
Hill and Russell have a helpful template on their website everydayeventplanner.com.

Scrapbook Shower
If you have a friend who loves to scrapbook, consider a baby book shower. Scrapbooking time falls off rapidly for the first few months of a child's life, and never more so when it's a third or fourth child. Consider having everyone come to a party where they scrapbook an album. Guests can create a traditional baby book with each person creating a different page for the parent to fill in: first smile, first tooth and so on. Or each party guest can write a memory or greeting for the new baby. Or each guest can decorate their own page with advice and a photo of themselves, giving the new mother a beautiful and very personal book.

Book Shower
This is an amazing chance to give a child the gift of reading.
Laura Rehling, herself a mom of three, threw a book shower for her good friend who was an avid reader and pregnant with her third child. "I asked everyone to bring a children's book to the shower. It could be their favorite book from childhood or one that they enjoyed reading to their children or grandchildren. Or it could be the latest beautiful picture book at the store."
The books just had to have meaning for the giver and the most touching cards were the ones that expounded upon why that book was chosen. You don't even need to restrict it to picture books but could also encourage chapter books, think about classics such as "Mr. Poppers Penguins" or "Charlotte's Web."

Freezer Shower
Bringing food to new mothers is a time-honored tradition that usually slows down by the second or third week. That's about the same time when most parents are at their most sleep-deprived, babies hit their fussiest stage and younger kids are demanding their share of attention. A Freezer Shower is the answer. Ask everyone to whip up a casserole or soup or some type of dish that will freeze well. (Pre-frozen foods and restaurant gift cards are good options as well.) Include a card with the name of the dish and instructions for reheating.

Nursery Makeover
The birth of a subsequent child can frequently mean major redecorating. Hill and Russell recommend what they call "Extreme Nursery Makeover." A nursery shower brings together friends (dads, too!) to help set up the baby's room. If the nursery needs to be painted, have everyone pitch in. If a crib or changing table needs to be put together, bring out the Allen wrenches. Someone can wash and fold the clothes, line dresser drawers, assemble the stroller, and even set up the car seat. This is a great way to involve the older siblings and it's especially helpful for moms on bed rest. Order up some bagels and coffee or pizza and soda. Encourage guests to bring gifts that complement the nursery theme or that are specifically for a baby's room.

Donation Shower
All babies are reason for celebration but sometimes the arrival of a second or third baby is a poignant reminder of how lucky we are. To celebrate the baby but not inundate the parents, consider a donation shower. When Amy Engstrom Clugg adopted her second child from Russia, friends threw her a shower asking guests to bring donations for the children left behind in the orphanage.
"These were children who may never know the love and security of their own family," Clugg explains. "My pediatrician donated loads of important things like Neosporin. My mother-in-law sewed mountains of flannel baby blankets and my parents donated a suitcase full of Beanie Babies so each child could have something warm of their own to hug."
"We had or could buy whatever was needed for both of our kids, but overseas, donations were desperately needed," she says. "In addition, we wanted Russians to know how much people in the USA welcome children like ours, children who join their families through adoption."
Find a charity that is close to the mom-to-be's heart and consider collecting donations for babies in need.
---
Great Gifts for Second or Third Showers
If your new mom doesn't need a new stroller or car seat, consider chipping in and getting her something unique and memorable.

Photography session: Professional baby portraits are priceless treasures. No one else can capture those little toes or triangle mouths quite so perfectly.

When Bethany Priester hosted a baby shower for her good friend, the guests all contributed towards a gift card for a photo session. "She was able to get some amazing photos. She chose to take some pre-baby, beautiful belly pictures and then went back and got baby and family pictures later. Since this wasn't her first baby, she knew the value of those photos and how magical a newborn's photos are."

Cards for birthdays 1 to 21: Hill and Russell suggest purchasing birthday cards for birthdays 1 through 21. Give one card to each guest and have them write an age-appropriate message to the baby, child, teenager, or new adult. Collect and seal in an attractive box and present to the new parents. These cards are to be given to the child each year on the birthday. This is a lovely and loving way to gift the baby anew each year!

"Stock the nursery" shower: Have guests bring the necessities for a newborn: plenty of diapers, onesies, wipes, formula and burp clothes. Forget the rubber ducky that tests the bath temperature, just have guests bring along items that new parents go through quickly. They'll be particularly grateful when they run out of something in the middle of the night.

Cleaning service: Chip in and hire a cleaning service for a couple of visits. Besides home cooked meals, a clean house is one of the best treats for any new parent.

Special gift: Find something the mom normally wouldn't buy for herself such as a double jogging stroller or a double bike trailer. Or get something the family would enjoy: a pool, museum or zoo membership.
---
Laura Amann is a freelance writer and a mother of four who was fortunate to be on the receiving end of numerous baby showers.
Published: