Chances are, you've seen a Little Free Library in your neighborhood. It would be easy to mistake one for an elaborate birdhouse, if it weren't for the crop of books tucked inside. These small wooden boxes are usually posted outdoors, and painted in a whimsical style. The concept is delightfully simple—leave a book, or take a book. The exchange is completely free. Visit www.littlefreelibrary.org/ourmap to locate 50,000 Little Free Libraries (LFL) worldwide, including more than 150 in San Diego County.Little Free Library is a nonprofit organization dedicated to increasing access to books and fostering connections between neighbors. Their goal is to double the number of libraries to 100,000 by the end of 2017.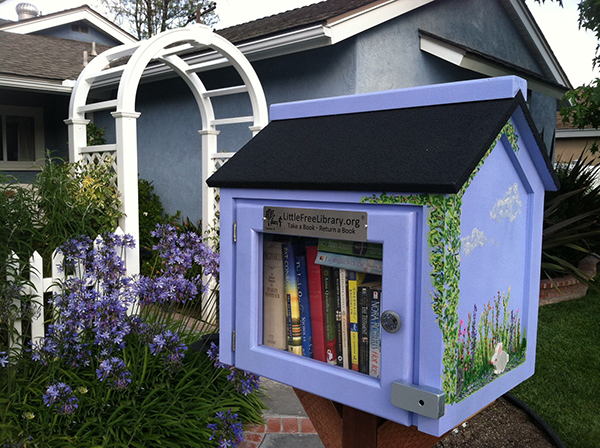 Margaret's Little Free Library in La Mesa

How it Works
LFL, at its core, is a community-building endeavor. Libraries work best when neighbors come together to share high quality materials. The better the contributions, the more successful the library. Participants leave a book when they can, take a book when they please, and return books whenever they get the chance. It's also perfectly acceptable to keep a book. The library operates on the honor system, and relies on neighbors using the library the way they'd like others to use it. Hopefully, donating as often as they take a book, and sharing desirable titles.
Finding Children's Titles
There's no way to know exactly what you'll find inside your local Little Free Library, and that's part of the fun! If you discover your neighborhood LFL lacks children's material, encourage your kids to donate a few books they love, and see if that sparks an age-appropriate exchange. Remember, the LFL is only as good as the community makes it. You should donate the type and quality of materials you wish others to donate. Invite your neighbors to do the same.Search the online map for Little Free Libraries located on school grounds. They should be well stocked with children's books. The map will also indicate who takes care of each library. Libraries maintained by scout troops and children's organizations are likely to contain appropriate titles. Happy hunting!
Ready to Start Your Own Little Free Library?
"Anyone can participate, though it involves making or buying the library," says La Mesa resident, Margaret Pesce, who became a LFL steward three years ago. Pesce is a book lover, who started her library to encourage neighborhood camaraderie. She reports that her library has been well utilized, especially by local children.Once construction is complete, a steward can visit the official Little Free Library website to register. A small fee is assessed, and the nonprofit sends an engraved sign with the library's official charter number. If desired, the library can be added to the world map with a photo and a brief description. From there, it's all about encouraging community engagement. Pesce hosted an open house to kick-off her library, and has seen many books passed along since then. And it's not just locals who've stopped by. "I had a wonderful surprise one day," she says. "A visitor from Canada left me a sweet note!"
Give Back
Is your group looking for a service project? Consider hosting a book drive to stock local Little Free Libraries with kids' titles. Every community can benefit from more books in the hands of children.
Anne Malinoski is a freelance writer and mother of two boys. Her favorite reads include classic novels by John Steinbeck and contemporary fiction by Lauren Groff.

Visit San Diego Family's Little Free Library board on Pinterest at www.pinterest.com/sandiegofamily
Published June 2017