» Find more frozen treats around San Diego in Frozen Treats to Beat the Heat.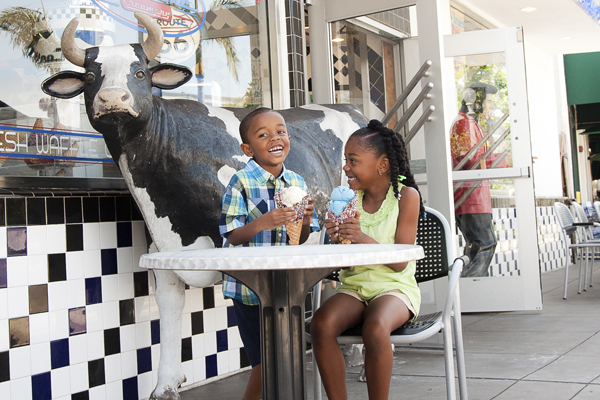 We don't have to take a trip back in time to enjoy the luxury of homemade ice cream. San Diego has a plethora of parlors that make their ice cream fresh in-house and ready to eat.
Bobboi Natural Gelato
8008 Girard Ave., La Jolla
Little Italy Food Hall (550 W Date St)
619-269-7187
Bobbi Natural Gelato was voted #8 in Yelp's 100 Best-Reviewed Places to eat in America for a reason! Hundreds of online reviews don't lie; Bobboi is top notch for gelato made daily with fresh, organic and local ingredients.
Mariposa Homemade Ice Cream
3450 Adams Ave., Normal Heights
619-284-5197
This humble ice cream shop in Normal Heights boasts delicious flavors like Peanut Butter and Jelly and Mexican Chocolate, a favorite of actress Kristen Bell.
MooTime Creamery
1025 Orange Ave., Coronado
619-435-2422
1500 Orange Ave. (Hotel del Coronado)
619-435-2383
A must-stop shop for Coronado locals and tourists alike. MooTime offers guests an old-fashioned ice cream counter experience with flavors that can't be beat. Choose from ice cream shakes, sundaes, cookie sandwiches and more.
Niederfrank's
726 A Ave., National City
619-477-0828

In 1948 Elmer Niederfrank opened his ice cream store in National City and his original factory is still going strong with new owners, Patti Finnegan and Mary Ellen Fought, who are dedicated to keeping Niederfrank's ice cream true to its roots.
"They have a ton of flavors. I shared a triple scoop with ginger, chocolate peanut butter and Almond Joy," says San Diego resident Allison Diamond of her recent visit. "They also have little tables where you can sit outside and feel the ocean breeze."
The shop's website brags, "We still make our ice cream by the most antique, inefficient, outdated and expensive process in the world. We think you will agree; the results are delicious!"
Pappalecco
1602 State St., Little Italy
3650 5th Ave., Hillcrest
12925 El Camino Real, Del Mar Highlands
4202 Adams Avenue, San Diego, Kensington
Pappalecco serves up delcious Italian-inspired gelato, pastries, coffee drinks, sandwiches and more. Indulge in a gelato crossiant sandwich or a cookie ice cream sandwich for an extra treat.
Salt & Straw
1670 India St., Little Italy
619-542-9394
Portland's favorite scoop shop has made the journey down south and it has delighted ice cream lovers with creative flavors like Pots of Gold & Rainbows for St. Patrick's Day, Salted Caramel Cupcake and Freckled Woodblock Chocolate. Check website for rotating flavors.
---
---------------
Adrienne Sigeti is the Editorial Assistant at San Diego Family and an ice cream and frozen treat connoisseur.
Updated March 2019