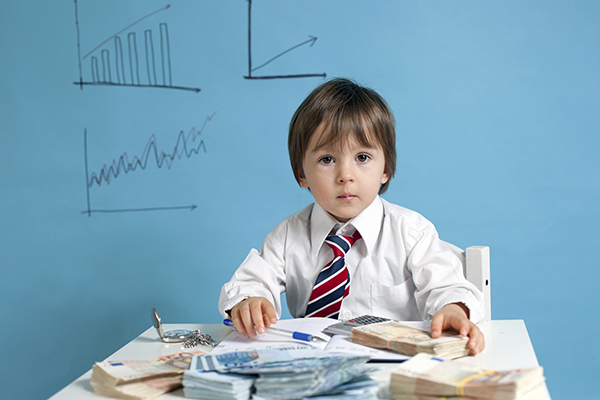 Even during the best of financial times, it is difficult for many of us to discuss money with our kids. According to a recent survey by MagnifyMoney, holiday spending resulted in an extra $986 in debt (on average) for families surveyed who reported accruing holiday debt. Who wants to talk about that?

"It is very easy to get caught up in the whirlwind of holiday spending," says Marla Black, president and CEO of Junior Achievement of San Diego, a nonprofit that teaches kids financial literacy skills. "The never-ending holiday parties, gifts for teachers and 'must-have' decorations can lead to a lot of hidden costs that many parents don't factor into their monthly budget." Given our own money management challenges, what can we do to help our kids avoid future financial pitfalls?

Talk about finances.
Although this month might be rough on the wallet, it's a great time to talk to kids about the importance of financial planning. A recent study by the Council for Economic Education found that one-third of parents are more comfortable talking with their kids about smoking, drugs and bullying than money.

If you think your child is learning how to manage money at school, note that in 2013 California was one of 11 states to receive an "F" for its work in teaching the basics of financial literacy in our high schools, according to a study from the Center for Financial Literacy at Champlain College.

A recent survey by Junior Achievement USA and Allstate Foundation revealed that nearly half of all teens don't know how to create a simple budget. Perhaps even more of a wake-up call, nearly 60 percent of today's teens don't think they'll be ready to financially support themselves by the time they turn 24.

If we want to help our kids navigate their way to financial success, it is crucial that we start these conversations at home.

Exhibit good planning and budgeting.
Parents need to model educated financial decisions and demonstrate financial responsibility: how to budget, save, spend wisely and build good credit. Set financial goals for your family and create a realistic plan for achievement. Discuss the process with your kids.

Explain how to save for long-term family desires, such as a new car or fun vacation. Help kids plan for their own long-term goals, like saving for a new bike or gaming system. Particularly with big-ticket items, show them how to research potential purchases—read reviews and comparison price shop. Suggest holding on to receipts for possible returns, and explain the intricacies of product warranties.

For day-to-day spending, such as groceries, make a list before heading to the store and stick to it. Bring kids along and discuss various purchasing choices (brand name or generic?) as you go through the aisles.

For both big and small purchases, discuss "wants" versus "needs." Black suggests, "Parents need to explain there is nothing wrong with wanting a new iPhone or skateboard. But these items should be in the 'wants' category, not to be confused with needs, such as water, shelter and food." Remember to talk about product advertising and its related influences.

Share the benefits and perils of credit cards, discuss debt and its impacts, and explain how an ATM card works. Younger kids need to understand that these machines aren't giving away free money.

Teach your kids to save.
Discuss everything from piggy banks to banking accounts and encourage short- and long-term savings.

"Parents can help by opening up a youth savings account," says Angie Lasagna, vice president of community relations, Mission Federal Credit Union. The award-winning Mission 2 $AVE Credit Union at School Program incents more than 1,700 student savers at 34 local schools to take control of their money and make good financial decisions.

Encouraging a child to save by giving matching funds is another option. For example, if your child can save half the cost of an item, you could cover the remainder.

Let kids make financial decisions.
Allow kids to make their own spending decisions, for better or worse. Do remind him of his long-term savings goals if he's tempted to spend on impulse but, in the end, let him learn how short-term, unplanned purchases will set him back from longer-term goals.

Discuss how to economize at home.
Talk about things you can do as a family that are free or low-cost; fortunately, there are plenty of fun, budget-friendly activities available in San Diego. Play in the waves at the beach, enjoy an afternoon in a park, go for a nature hike, or experience family days at a local museum. Find a plethora of family adventures at www.SanDiegoFamily.com/out-and-about/over-600-things-to-do.
Check out San Diego's new Mission Fed JA Finance Park.
This innovative program teaches teens a multitude of financial concepts through an interactive, high-tech, life-like simulation. Participants learn how to create a budget, set aside savings, make appropriate purchasing decisions and understand career options. Read about it at www.SanDiegoFamily.com/resources/education-directory/1868.

---
Lisa Pawlak is an Encinitas resident, mother of two sons and a contributing writer to San Diego Family Magazine.
Published January 2016