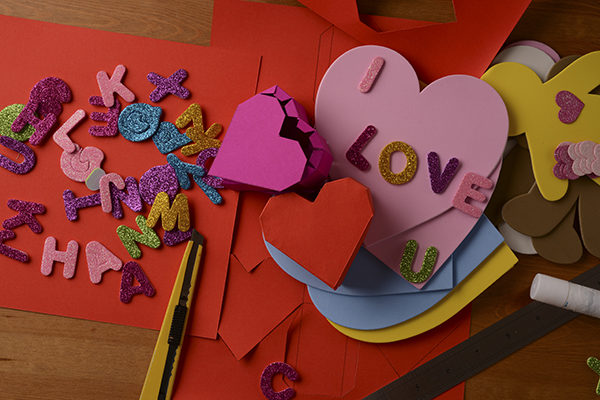 Greeting cards, jewelry, boxed chocolates—Valentine's Day can be an expensive holiday! But, your family's celebration doesn't have to cost a lot to be meaningful. Here's a bunch of fun and easy ideas using a very inexpensive item you probably already have in your kitchen cupboard: food coloring. Combine it with other low-cost items and you and your kids can craft gifts and decorations that really show your true colors.
A little food coloring goes a long way; it only takes a few drops mixed into a small amount of water to make these projects. Raid your pantry for forgotten almost-empty bottles first. If you don't have any or don't have the colors you need, don't despair; at the grocery store, boxes of four colors only cost a few dollars. Besides the traditional assortment of red, yellow, blue and green, check for neon and pastel color sets too. Food coloring is safe for kids, but remember it will stain just about anything. Wear old clothes, cover your workspace and mix colors in glass or disposable containers like yogurt cups or jar lids. It's hard not to get at least some color on hands, so if you're really worried about the color of your kids fingertips, have them scrub up immediately or wear latex gloves. Then, you're ready to create a handmade and heartfelt Valentine's Day!

Party Decorations
Tissue paper and food coloring are all you need to make many cute Valentine's decorations. To make a great garland or streamer, accordion-fold a sheet of gift tissue and then cut it into several strips.
Cut a heart into each section, paper-doll style, (make sure you don't cut apart the two side edges of the heart). Mix a few drops of food coloring with a couple teaspoons of water in a shallow container and then dip an edge or tip of the folded heart into it.
Dip another area into a different color if you want and then lay the heart on folded paper towels to dry. Cut and dip as many sections as desired- the more you make, the longer the garland can be. Once completely dried, carefully open each section and use small pieces of clear tape to attach them end-to-end. Drip, splatter or paint colors onto larger tissue or paper hearts and hang them on the wall or from the ceiling. You could also decorate a plain paper tablecloth for the party table.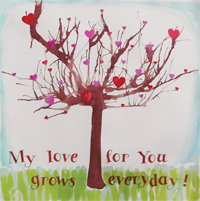 Pretty Pictures
Used full-strength or mixed with a little water, food coloring makes perfect "watercolor" paint. Let little kids paint abstract designs or hearts in Valentine's colors or blow drops of it onto the paper with a plastic straw. It's also fun to drip it onto tissue or paper towels and watch colors "bleed" for a tie-dyed effect. Older kids might like to try making a picture like the "heart tree" shown here.
Start by mixing drops of all the colors you have to make brown. Add some water and then paint a tree trunk on the page. Puddle some "paint" at the top of the trunk and then blow it up and out with a straw to make branches. (Moving the straw in a back and forth sweeping motion while you blow produces the best results.)
Paint any other desired details and after the picture is completely dry, add "blooming" hearts and a message with stickers, cut paper or markers. Another idea is to experiment hand-coloring black and white photographs with tiny amounts of thinned food coloring on a small paintbrush. It usually works well as long as they are printed on non-glossy paper with waterproof inks.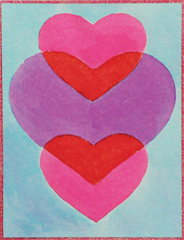 Colorful Cards
To make one-of-a-kind greeting cards, cut a piece of thick paper or cardstock a little smaller than a blank card. Lightly trace or draw overlapping heart shapes in pencil and then use a paintbrush to paint in the shapes and background with different colors. Let it dry and then adhere it to the card with a glue stick.

Have younger kids paint designs onto a bigger piece of paper and cut out hearts from the sheet after it's dry. Then, glue the hearts onto the front of a card. Or, draw a design with permanent marker and then color it in with a paintbrush. (If your painted surface warps a little from the watercolor, make sure to cover the entire back of it with glue and then set a heavy book on top of the finished card for awhile to help smooth and flatten it out.) Try making heart-shaped cards too.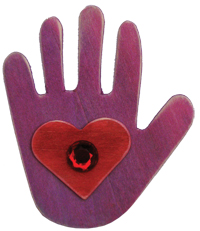 Unique Gifts
Food coloring makes a great "stain" for unfinished wood shapes, frames, plaques and containers. Check the craft or hobby store for a huge selection of inexpensive ready-to-decorate wood items. The smallest and most simple project to make is a pin or magnet, like the heart-in-hand shown here.
Mix a few drops of color with a little water and then use a paintbrush to apply it to one wood shape. Mix a contrasting color and use it to paint a smaller shape. Allow them to dry and sand the edges for an added touch. Use white glue to adhere them together and then add embellishments like rhinestones if desired. Glue a pin back or magnet on the back for a pretty present for someone special. You can use food coloring to decorate favor bags and to make custom gift wrap too, as long as the paper doesn't have a glossy finish.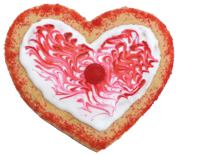 Fun Foods
Naturally, food coloring can be used to make lots of cute Valentine's treats, too. For this cookie, simply dip a fork into undiluted food coloring and use it to draw overlapping wavy lines in the fresh frosting for a marbleized look.
Why not dye "Valentine's eggs" this year, just add a little vinegar to the color first. Make Valentine's Day meals or party foods festive by tinting them pink or red; applesauce, puddings, frostings, whipped cream, drinks and ice work especially well. How about pink mashed potatoes for dinner? You can also add color to cupcake, muffin or pancake batter and to cookie and bread dough.
"Paste" food coloring is thicker than the normal type and sometimes works better for coloring some foods since it won't thin them out or make them runny. It's available at larger craft stores, but does cost a little more than liquid food coloring.

Other Activities
There are many more ways food coloring can be used for cheap kids' activities any day. Use short straws or eyedroppers to pick-up and mix watered-down colors in a clear plastic egg carton. Another way to learn color mixing is by dripping undiluted drops into clear glasses of water.
Add a lot of color to the water of white flowers, like carnations, and watch what happens over the next few days. Give kids cotton swabs or other small household objects to dip into color and stamp and print onto paper. Fold a sheet of tissue or paper towel over and over again, dip each corner into color and then unfold it to find a cool pattern. Who knew that one little box of good old food coloring could be a plentiful supply for colorful holiday, art, craft, cooking and science projects?
Helpful Tips
• Remember, it only takes a few drops of food coloring to do any of these projects and a tiny amount of "paint" on the brush to color a project.
• Test your color mixtures on a scrap of white paper first. You can then add another drop or two of food coloring if needed.
• When using food color "paints" on paper, use card stock or textured sheets, or purchase watercolor paper to diminish wrinkling or warping.
• Tint white glue or tempera paint with food coloring.
• Shake food coloring with sugar, corn meal or sand in a tightly sealed sandwich bag to make your own inexpensive colored sand for craft projects.
• Don't dilute the color with water when using it to tint foods.
• Save leftover color mixtures in little jars for use another day.
• Modify these projects for any other holiday or occasion!

–––––––––
Pamela Frye Hauer is an artist, author and mother of two busy little boys. Her craft and scrapbooking projects have appeared in numerous books and magazines. Her most recent book is Memories in Miniature.
Photos by Pamela Frye Hauer
–––––––––