Supplement your child's education with these do-it-yourself
Super Science Projects
---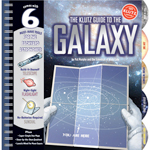 Klutz Guide to the Galaxy
$19.99; 8+ years
klutz.com
Explore the universe from your backyard with a build-it-yourself telescope, night-sight flashlight, sundial, star and moon maps and an astrolabe. Includes loads of space-science activities.
"Very exciting and fun," says Evan, age 11.
---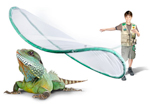 Reptile Hunter Super Throw Net
$14.99; 5+ years
BackyardSafari.com

Budding herpetologists can explore reptile wildlife by catching and observing lizards, turtles, frogs and salamanders.
"Keeps your child active and busy outside. Field guide requires parent's assistance."
---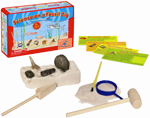 Science on a Fossil Dig
$19.99; 5+ years
Kidsciencekits.com

Use the included brush and scraping tools to dig for real fossils! A magnifying glass and fun fact cards help kids learn about their finds: brachiopod, gastropod and "squid" shells and a fossilized shark tooth.
"Looking for fossils and trying to guess what it will be is a fun treat," says mom Tianna.

---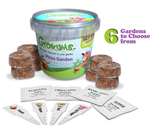 Growums: Ratatouille Garden
$9.95; 5–12
Growums.com
Gardening combines with virtual world fun. Kits include seeds, magical coco or peat pellets and everything needed to grow vegetables or herbs for a salad, pizza, herb, taco, stir fry or ratatouille. Kids can register their garden online and watch animated mini videos to learn how to care for their seedlings. Weekly emails discuss watering, weeding, growth cycles and more.
"Easy," says mom Francine. "All you need is a pie tin."
"Wow, I can grow my own vegetables!" says Evan, age 11.
---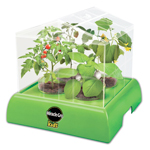 MIracle Gro Mini Greenhouse or Terrarium
$12.99; 5+ years
PeachtreePlaythings.com
Grow your own flower, vegetable and herb gardens. Kid-safe kits feature the Miracle-Gro Gro-Pod system and Gro-Mix!
"This is so cool!" says Matt, 11.
Naomi, 9, says, "This is the perfect thing for me because I like planting stuff."
---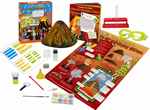 Magic School Bus: Blast Off Erupting Volcanoes
$19.99; 5+ years
kidsciencekits.com
Study the science of volcanoes! Paint the volcano, mix up some "lava" and watch it explode. Learn about the layers of the Earth, study tectonic plate movement, explore different volcanic shapes and eruptions and make real pumice float. Includes a poster with volcanic facts, pictures and stickers.
Parental help required with this fun but somewhat messy project.
---
---