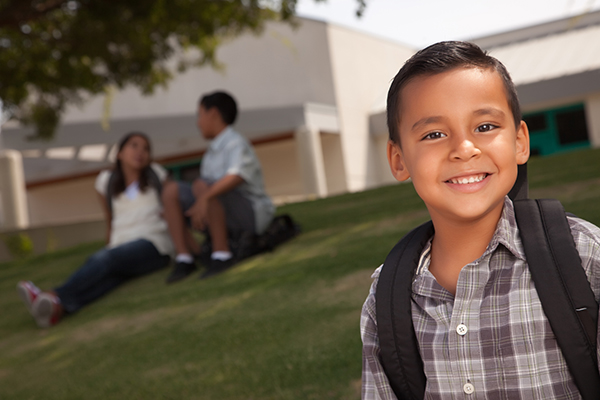 Is your child ready to walk to school? Ask yourself the questions below before deciding. These safety guidelines and tips will help ensure a safe walk to school.

Walking to school is a healthy alternative to riding the bus for those who live close enough to school. Childhood obesity is becoming an epidemic and walking to school provides a daily exercise routine for students. However, parents should consider their child's age, level of maturity, available supervision and the neighborhood surrounding their local school before determining that their child can walk to school.

According to an National Highway Transportation Safety Administration (NHTSA) safety advisory article, "Pedestrians 10 years old and younger should be accompanied by an adult or young adult on their way to and from school." The NHTSA advocates programs where parents, teachers, and state and local governments work together to identify safe pedestrian routes.

The American Academy of Pediatrics recently shared some back-to-school tips, one of which was to consider organizing a "walking school bus," in which an adult accompanies a group of neighborhood children walking to school. For those who want to start a walking school bus, more information can be found at www.walkingschoolbus.org. These organized walking "buses" can be as informal as two families taking turns walking their children to school or as structured as a route with meeting points, a timetable, and rotating, trained volunteers.

If communities work together to create safe routes to school, walking to school can be a safe, healthy and pleasant part of children's daily routines.
Your child is ready to walk to school when he…
is at least 10 years old and/or you deem him mature enough to handle the risks.
understands traffic signals.
follows pedestrian rules (i.e. crossing streets only at crosswalks).
knows what to do if approached by a stranger.
can handle an emergency and won't panic.
will stick to the route chosen and won't go off with friends in another direction.
has a cell phone or other means to contact you when he arrives at school.

Guidelines for kids and parents to follow:
Walk in groups or with at least one buddy.
Walk to school with your child the first time to make sure it is safe and he follows pedestrian rules.
When possible, organize responsible adults to take turns accompanying the children as they walk to and from school.
Be a good role model: Teach safe pedestrian behavior and follow the rules yourself.
Leave plenty of time to get there—rushing can cause kids to be less alert.
Work with your school district and local police agency to identify safe routes to school and to provide crossing guards where necessary.
Make sure your child has someone to check in with when returning home.
Start an active Neighborhood Watch program to help keep your neighborhood safe.
---
Myrna Beth Haskell is a columnist and author of LIONS and TIGERS and TEENS: Expert advice and support for the conscientious parent just like you.