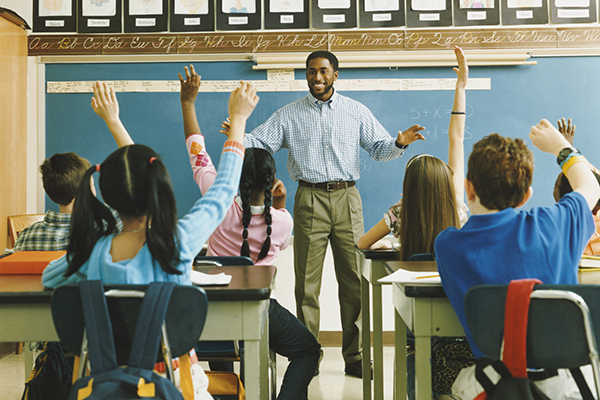 The relationship you have with your child's teacher affects how your child views school and education, which will impact his life for years to come. Use these tips to cultivate a positive working relationship with your child's teacher.

Prepare Kids for School
Help teachers do their job by sending your kids to school prepared. This means making sure their brains are ready to learn by providing a nutritious and filling breakfast each morning; keeping a consistent bedtime routine to ensure their bodies get required rest; and arming them with necessary school supplies.

Avoid Gossip
Socializing with parents from your child's class is a natural occurrence. Unfortunately, birthday parties and sidelines at soccer fields can easily become the breeding ground for petty gossip and rumors. What begins as innocent chit chat among adults can lead to exaggeration, which can magnify a simple problem or minor complaint. Avoid the temptation to engage in malicious talk and refuse to be involved in non-productive discussions.

Contact Directly and Rationally
Throughout the school year, concerns about your child's education or problems on the playground may arise. Typically, it's best to first contact the teacher directly. Remember that it's your responsibility to model positive and appropriate conflict resolution techniques to your child.

If you believe your son received an unfair grade or you're not happy with how a behavioral issue was addressed, think before you fire off a scathing email or leave an angry voicemail. No one likes to see her child upset, but it's important to spend a few minutes listening to your child's account of events and thoughtfully consider how to proceed.

If contacting the teacher is warranted, take emotion out of the situation before you do so (consider waiting until the next day, if necessary). A good night's sleep can provide valuable perspective. If you have a rational discussion and a suitable resolution was not reached, contact a principal or supervisor for help.

R-E-S-P-E-C-T
Respect the teacher's time in and out of the classroom. As parents we would love for our kids to have as much individualized attention as they need, but it's unrealistic to believe teachers have the time and resources to explain every concept until each student understands it perfectly. If your child is having difficulty at school, it may be necessary to hire a tutor (or other professional) outside of regular school hours.

Support Your Teacher Through Small Acts
Acknowledge the hard work and patience that goes into educating and caring for your child. The simple act of recognizing a job well done can make an educator's day brighter. If your child is excited about a particular unit being taught, send a handwritten note explaining how much the teacher's enthusiasm for the subject has rejuvenated your child's thirst for learning. Acknowledgement of her dedication to education will be appreciated.

Be an Active Participant
Teachers appreciate parents who are involved in their student's education. But note that involved doesn't mean doing your kids' homework. It means being aware of tests, projects and field trips; and teaching your child time management skills so assignments are handed in on time.

You can also volunteer as a room parent, be the point of contact for a school project, offer occasional help in the classroom or provide snacks or supplies as needs arise. Send an email letting the teacher know how you are available. Many hands make light work, and the benefits far outweigh the costs.

------------
Maureen Schuster is a freelance writer and mother of three boys.
Published: September 2014