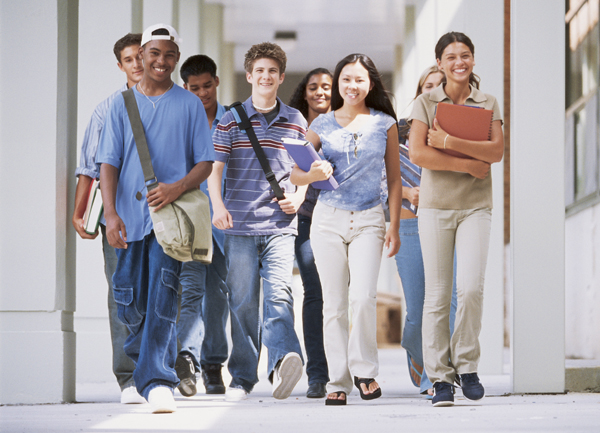 The Common Core State Standards or CCSS (also referred to as the Core Curriculum) have been adopted by 46 U.S. states and the District of Columbia. These new educational standards will replace the No Child Left Behind Act initiated by President George W. Bush in 2001. The CCSS is already being implemented in schools from elementary classrooms to the college level, (University of San Diego and UCSD are two).
Read on to learn how the CCSS will influence your child's education and how schools are responding to its challenges.
---
How are charter schools handling the transition to Common Core Standards?
Steve Mancini, spokesman for national charter school KIPP (Knowledge Is Power Program), which operates 125 charter schools including one in downtown San Diego, says, "KIPP has embraced the adoption of common standards."
In an online article, Mancini says the network has identified master teachers who share lesson plans and videos of their teaching with the rest of the teachers in the KIPP network to help them better prepare for the shift to the Common Core. (Read the full article at www.kipp.org/news/education-week-charters-adjusting-to-common-core-demands.)
Wendy Ranck-Buhr, the principal of the San Diego Cooperative Charter School, which serves students in grades K-8, says that although her school is well-positioned to implement the CCSS, she worries about finding the money to beef up her school's technology infrastructure in preparation for the online assessments.
In the article, Ranck-Buhr says her school operates in a district facility with outdated technological infrastructure. Online assessments are a great idea she says, "but the reality of it has me tremendously worried."
---
CCSS in San Diego County Schools
The Common Core State Standards (CCSS) provide a practical way to prepare children for the challenges of a constantly changing world—by learning step-by-step the real-world skills they need for career and college.
The CCSS are the result of a voluntary, state-led effort to establish clear and consistent education standards, which provide clear goals for student learning. Parents, educators, content experts, researchers, national organizations, community groups from 48 states, two territories and the District of Columbia all participated in the development of the standards. The resulting standards cover English-language arts, literacy in history, social studies, science and technical subjects, and mathematics for Kindergarten through 12th grade.
The CCSS will change teaching and learning, because they change the expectations of what skills and knowledge students should be able to demonstrate and apply. In English language arts, for example, students will be expected to read as much nonfiction as fiction and to increase academic vocabulary. In math, students will learn more about fewer, key topics so they can think fast and solve real-world problems. In all subjects, students will increase critical and creative thinking, communication and collaboration.
The new standards set clear goals, but it remains up to local teachers, principals and superintendents to decide how to met the standards. Teachers will continue to devise lesson plans and tailor instruction to the individual needs of the students in their classrooms. Local educators and school boards will continue to make decisions about curriculum and how to operate their school districts.
There hasn't been an academic overhaul this major in California since the last set of state standards was adopted in 1997, according to Scott Sypkens, senior director of Curriculum and Instruction at the San Diego County Office of Education (SDCOE). That's why in San Diego County, districts are hard at work understanding and planning for Common Core implementation.
School district staff, principals and teachers have already been attending professional development workshops to understand the CCSS and plan for the transition. SDCOE has supported school districts in this by offering professional learning for leaders at most of the county's school districts and sharing information about the new Smarter Balanced assessment system and its implications for instruction. In fact, many San Diego County districts are participating in "pilot" assessments.
California is participating in the Smarter Balanced Assessment Consortium with a number of other states to prepare a common set of assessments, or tests, based on the CCSS. The new tests, which students will take on computers (or iPads or similar devices), will be fully implemented in the 2014–15 school year.
The Common Core State Standards will help California move forward now so that all children—no matter where they come from or where they live—receive a world-class education that's consistent from school to school, and graduate ready to contribute to the future of our state and our country.
For more information on the CCSS, visit www.sdcoe.net/commoncore.
----------------------
Music Watson, APR, is the Chief Communications Officer for the San Diego County Office of Education.
---
A Teacher's Perspective on the Core Curriculum
Q&A with Debra Albrecht, a fourth grade teacher in Southern California
"The Common Core not only feels right, but makes complete sense. I just wish that I could have been teaching this way all along!"

How will the CCSS change the way you teach?
It already has! A big part of the Common Core are the "4 Cs" which businesses felt were essential skills for workers in the 21st century. The "4 Cs" are Collaboration, Critical Thinking, Creativity and Communication. Replacing the old "3 Rs," Reading, Writing and Arithmetic, the new "3 Rs" stand for Relevance, Relationships and Rigor.
I have really tried to incorporate more of the 4 Cs and 3 Rs in my teaching. I always try to give them problems that they'll need to solve in the real world (relevance). My students are given a math problem to solve (critical thinking), and work as a group to solve it (collaboration) and prove their answers. After they write their answers, they share their answers (communication). Other students can challenge those answers based on using problem solving (critical thinking). Rigor occurs in the high expectations required when thinking through the problems. Creativity is mixed into problem solving. For example in math, they create artwork using different shapes. Students need to name the shapes and give the fractional portion that each piece represents in the larger shape.
If teachers don't have good relationships (the third R) with students, then they don't learn as easily. Last year, I began having community meetings at the beginning of each day. Students had time to share about their life, "Show and Tell." If we had any problems the previous day, the students would offer solutions to their problems. As a group, we decided which one worked best for us. I only gave the students homework that they already understood.
The students got to choose how they wanted to practice their reading, spelling, math facts and vocabulary. They had the week to finish four assignments in each area to earn game time if they completed their work. They could do optional assignments (interviewing people, creating graphs or cartoon videos to upload to our social media Edmodo site) to earn additional game time.

What benefits will CCSS offer students?
The benefits are numerous. For the first time in years I really enjoy teaching, because this way of teaching just makes sense. Because I enjoy teaching, the students enjoy learning. Students are learning to collaborate and communicate more effectively.
Children are very good critical thinkers, but our "bubble-in" testing and assembly line approach to teaching have really hindered kids' natural ability to think and be creative. This year, I had the most growth ever on the traditional CST test. Students do better on tests because of their increased problem-solving ability. Students also tattle less and work out their own problems on the playground.
I still have to intervene, but less often.

What do parents need to know about homework and testing?
Parents need to be informed about the CCSS. I hope to see more parents in the classroom so we can meet individually with their children to give them more one-on-one attention.
Then parents can implement the 4 Cs and 3 Rs at home with their child's homework.

Are there any drawbacks?
The drawback is having the money to implement the CCSS. Our school needs a lot more hands-on materials and different reading materials.

When will your school begin implementing the CCSS and when will the transition be complete?
Last summer, our district was proactive and trained 5-10 teachers from each school on the CCSS. Right away, our school began training all our teachers on the Common Core. We have one more year to transition from California State Standards (CST) to the CCSS. California is lucky because our standards are already very rigorous; our state standards are not much different than Common Core Standards.
----------------
Kirsten Flournoy is the editor of San Diego Family Magazine.
Published: August 2013