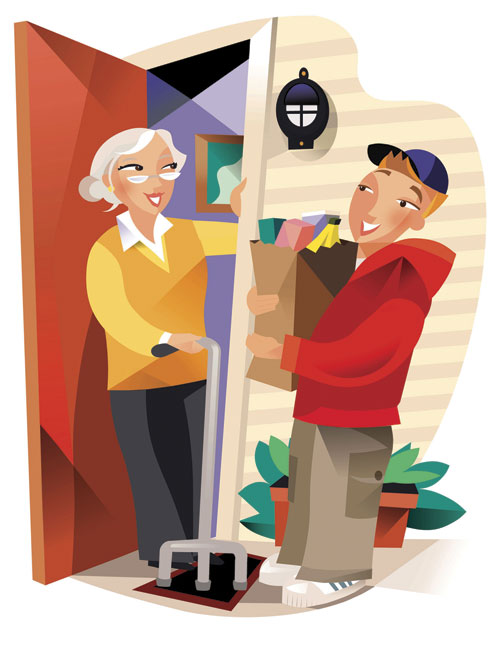 More than Meals:
Volunteers bring caring and friendship


For parents wanting to involve children of all ages in community service, look to Meals-on-Wheels. This organization's mission is "to support the independence and well-being of seniors" through their meal-delivery program.
While good nutrition for the elderly is one aspect of this program, the volunteers who deliver meals give nourishment of a different kind. A Meals-on-Wheels volunteer often is the only person a senior encounters all day.
"When children participate, they make a huge difference in the lives of seniors," says Debbie Case, executive director, Meals-on-Wheels of Greater San Diego. "Kids make them perk up, smile, laugh and tell stories."
Kids who participate in meal deliveries benefit from the experience, too. They gain new respect for the elderly and learn the importance of helping others.

Get Involved!

At a minimum, Meals-on-Wheels requires 135 meal delivery volunteers daily. Volunteers choose one or more days Monday through Saturday to deliver meals using their own automobile. Children are welcome to volunteer as long as they are accompanied by an adult 18 years or older. www.meals-on-wheels.org/volunteer

Adopt a Route
Groups of eight or more individuals from a company or organization can adopt a route. By sharing the weekly responsibility for the route with others, individuals typically deliver meals once a month. www.meals-on-wheels.org/aboutus/partners.php

We Care Packages
If you don't have time to deliver meals on a regular basis, make "We Care Packages" at home with your family. Seniors are given care packages filled with personal items for birthdays and holidays. Your children will enjoy choosing gifts and creating a cheerful note to tuck inside. www.meals-on-wheels.org/We Care Package Guidelines-2007.pdf

Speakers' Bureau Volunteer
Help get the word out. If your talent is public speaking, consider making presentations to community groups to garner support for Meals-on-Wheels. Speakers will receive training, materials and resources. www.meals-on-wheels.org/volunteer

Donate
The need in the community is great, and meals are subsidized by the Meals-on-Wheels organization. Help seniors stay independent, and donate today. www.meals-on-wheels.org/donate
------------------------------------------------------------------------------------------------------------------------------------------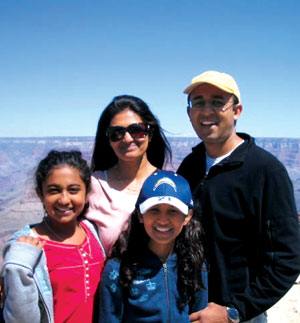 Volunteers Spotlight on the Keshav Family
The Keshav Family began volunteering for Meals-on-Wheels in 2001, when daughters Meera and Suhani were 6 and 4. They delivered meals in South Carlsbad and Encinitas, and now have a route in the Solana Beach area. Read on to discover why the program is a win-win for the Keshavs and the senior citizens they meet.



Why did you want to volunteer together as a family?
Dr. Rohit Keshav, father
I wanted my daughters to participate in community service at a young age so they would continue volunteering as they grew older. Resh and I like to take the girls when delivering because the elderly like talking to them and showing them photos. The seniors get a breath of fresh air.
It's also one of those rare times when we can do something for complete strangers without expecting anything at all in return.

Describe a significant moment during your volunteer experience.
Resh, mother
Most of the people we serve live in low-income communities. A big shock to my girls was delivering meals to a house around the corner from our own. The man was connected to an oxygen tank and his wife was in a wheelchair. My daughters learned that neediness and loneliness happen everywhere.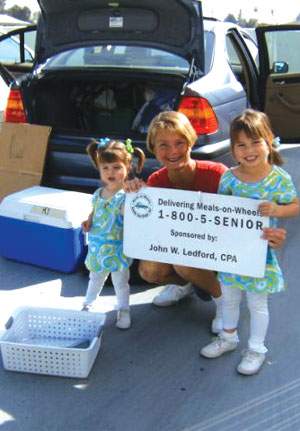 Why do you like volunteering for Meals-on-Wheels?
Suhani, 11
I like meeting all the people we serve and making them happy. Mr. Ennis makes me laugh with his jokes and Donald Duck voice. He also shows us pictures and tells us stories about playing soccer. Serving Meals-on-Wheels makes me feel like a different person from home or school.
Meera, 13
One woman on our route, Miss Dorothy, is always working on a new, complicated puzzle. I really admire that. Even when she isn't feeling well, she greets us and asks what we've been doing. We care about her, but she cares about us, too.
------------------------------------------------------------------------------------------------------------------------------------------
By the Numbers in San Diego County
• One meal preparation center cooks meals for seven vans to deliver meals to 19 drop zones where 135 volunteers deliver meals on 95 routes to 1,000 senior citizens everyday.
• 1,728 people are active volunteers.
• Six seniors over the age of 100 live independently.
• Five volunteers over the age of 90 deliver meals to the needy.
--------------
Ronni Rowland is a freelance writer and the mother of two.