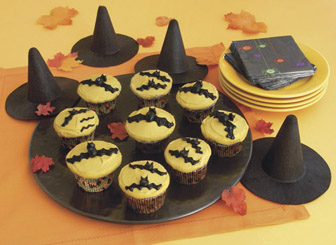 Makes 24 Cupcakes
Prep time: 10 minutes
Baking time: 22 minutes
Decoration time: 25 minutes
Difficulty: Easy
••••••••••••••••••••••••••••••••••••••••••••••••••••

1 bag Milky Way Fun Size Bars
1 bag M&M'S Milk Chocolate
Candies -Pumpkin Patch Mix
1 bag M&M'S Peanut Chocolate
Candies -Pumpkin Patch Mix
1 18.25-ounce chocolate cake mix
1 can (16-ounce) vanilla frosting
1 cup dark chocolate frosting
Yellow food coloring
Black food coloring
Decorating sugar
••••••••••••••••••••••••••••••••••••••••••••••••••••••
Preheat oven to 350°F. Line two cupcake pans with paper liners. Prepare the cake mix according to package directions and spoon the batter into the prepared pans. Place 1/2 of a Milky Way in the center of each cupcake.
Bake for approximately 19 to 22 minutes, or until a toothpick inserted in center comes out clean. Remove from oven, transfer to a wire rack to cool completely.
Tint vanilla frosting bright yellow with food coloring. Tint chocolate frosting black with food coloring and spoon into a resealable bag. Spread top of cupcakes with yellow frosting. Roll edges in to the decorat-ing sugar if desired. Place one or two black M&M'S Milk Chocolate and M&M'S Peanut Chocolate Candies on top of each cupcake as the bats' bodies. Snip a small corner from the bag with the black frosting. Pipe bat wings on the either side of each M&M'S and ears on top of each M&M'S.
For more Halloween recipes visit BrightIdeas.com.