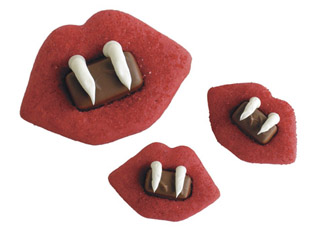 Makes 24 bites
Prep time: 20 minutes
Baking time: 7 to 10 minutes
Decoration time: 15 minutes
Difficulty: Easy
••••••••••••••••••••••••••••••••••••••••
1 bag Milky Way Minis
1 1/2 cups flour
3/4 teaspoon baking soda
1/2 teaspoon cinnamon
1/2 cup butter, softened
2/3 cup packed brown sugar
1 egg
Red food coloring
1/2 cup red decorator's sugar
1 tube vanilla frosting
••••••••••••••••••••••••••••••••••••••••
Combine flour, baking soda and cinnamon in medium bowl; set aside. Beat butter and sugar in large bowl with an electric mixer until light and fluffy. Add egg; beat well. Slowly add flour mixture into dough until blended. Add enough food coloring to tint dough a bright red. Cover bowl with plastic wrap, and refrigerate at least 2 hours.
Preheat oven to 375°F. Line cookie sheets with parchment paper. Using a rolling pin, roll out dough on a lightly floured surface to 1/4-inch thickness. Use the printable templates or cookie cutter to cut out 24 lip shapes. Otherwise, you can form the dough into 24 balls and flatten each slightly to create free form shaped lips using your hands to pinch and shape the dough. Transfer these to prepared cookie sheets.
Reroll scraps if necessary. Sprinkle cookies with red sugar. Bake 7 to 10 minutes, or until golden brown. Remove from the oven, and immediately press an unwrapped mini Milky Way into the center of each cookie. Cool completely.
Use vanilla frosting to pipe fangs over the candy.
Tip: If short on time, consider using store bought refrigerated sugar cookie dough. Begin by kneading 2/3 cup of flour into dough, then roll and cut according to the above directions. One roll of cookie dough makes approximately 18 cookies.
For more Halloween recipes visit BrightIdeas.com.