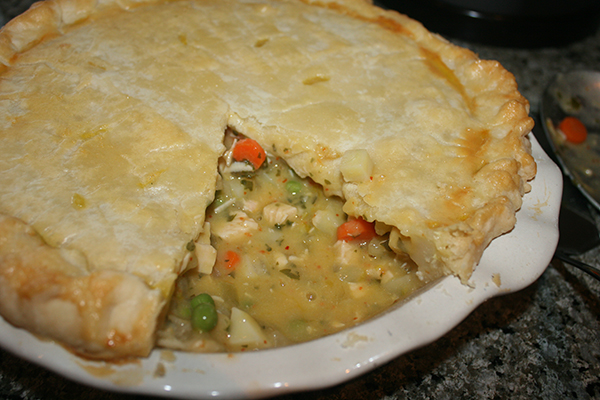 This is a great way to use leftover turkey from Thanksgiving dinner. As a twist on this recipe, try making mini turkey pies using refrigerated crescent dough and a muffin tin.

Serves 4

Ingredients
4 tbsp. butter
1 cup diced onion
½ cup chopped celery
½ cup sliced carrots
4 tbsp. flour
3½ cups chicken stock
1½ cups peeled and diced potatoes
2 cups cooked turkey, chopped
2 tbsp. chopped parsley
½ cup frozen peas, thawed
Salt, pepper, cayenne pepper to taste
2 pie crusts
1 egg, lightly beaten

Directions
Preheat oven to 350º. Melt butter in large pan and cook onions until tender. Add celery and carrots and cook for two minutes. Stir in flour; cook for one minute. Add stock and stir until it thickens. Add turkey, peas and parsley. Season to taste with salt, pepper and cayenne. Let cool for 30 minutes.

Place one pie crust into a deep dish pie plate. Pour the cooled turkey mixture into the crust. Top with second pie crust and seal the edges. Cut eight small slits on top of pie; brush with egg. Bake for 45 minutes. Cool for 15 minutes; then serve.

----------
Recipe provided by Ramona Warner, a local mom and expert party hostess.

Published: October 2014