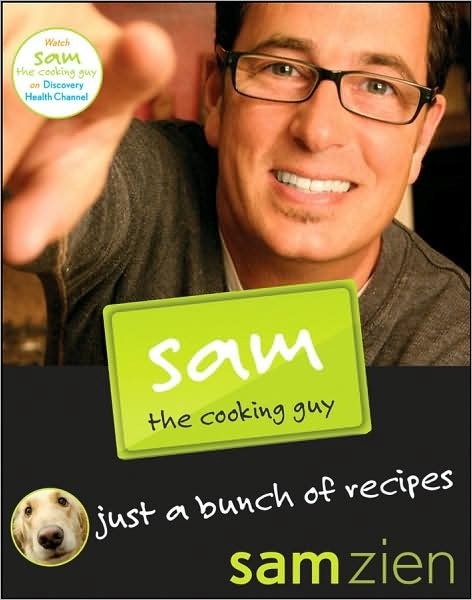 San Diego's own Sam Zien, better known as Sam the Cooking Guy, wants to spice up your summer. Fresh from another season of "Just Cook This!" on the Discovery Health Channel, Zien debuts his first, long-awaited cookbook. Just a Bunch of Recipes (2008, John Wiley & Sons) is written in Zien's comedic, casual style and promises dishes that are "big in taste and small in effort."
Most recipes call for just a few ingredients. Using store-bought sauces and ready-made staples (like boxed macaroni and cheese), Zien makes cooking easy for novices and fun for everyone.
Mix and match dishes to create a delicious summer meal and win rave reviews. Dads can get busy on the barbeque preparing Grilled Lobster and Grilled Veggies; there's even a Grilled Peach and Blueberry pie! While grown-up guests enjoy Honey Garlic Spareribs and Cheese Garlic Fries, kids can sample an array of palate-pleasing treats, like Mac and Blue Cheese with Bacon and homemade Ice Cream Sandwiches. Both kids and parents alike will get a kick out of the Grilled PB and Jelly sandwich, made with creamy peanut butter and raspberry jam. Zien promises, "This is not nearly as goofy as it seems. If you like a PB and J (and who doesn't?), then you'll love it when it's grilled. It gets all gooey when it cooks. It's brilliant."
Chicken Breasts Stuffed with Goat Cheese and
Sun-Dried Tomato Pesto
4 boneless, skinless chicken breasts (big ones)
4 ounces goat cheese (the soft log kind is easier to use for this instead of the crumbled)
1/4 cup jarred sun-dried tomato pesto
Wooden skewers, soaked in water for about 30 minutes
Olive oil
Kosher salt and freshly ground pepper

Preheat grill (or broiler) to medium-high. Put the chicken breasts in a resealable plastic bag and hit them gently with something heavy, like a bottle, to flatten them a bit—just enough to make them slightly wider and a little more even, thickness-wise. Make a wide deep slice in the side of each breast to form a pocket. Stuff each pocket with some of the cheese and pesto. Use a couple of wooden skewers to seal the opening shut. Drizzle with olive oil and season well with salt and pepper on both sides. Grill (or broil) on both sides until done, about 10 minutes per side, and serve right away, because when they're hot, they'll get all drippy when you cut into them.
Lemon Pasta with Mint
"To the pasta world what the little black dress is to the fashion world."
In a large pot of boiling water, cook the pasta according to the directions on the box. When the pasta is almost done, melt the butter in a medium pot with the lemon juice and mix well. Drain the pasta and put in the pot with the butter and lemon juice and add salt and pepper to taste. Toss everything together. Put on serving plates and top each with some Parmesan, a little lemon zest and the mint.
Find more recipes and classes by Sam the Cooking Guy.
-------------------
Kirsten Flournoy is the editor of San Diego Family Magazine. She's heading home to whip up Zien's Tomato and Potato Chip Sandwich. Mmm.
Published: January 2009