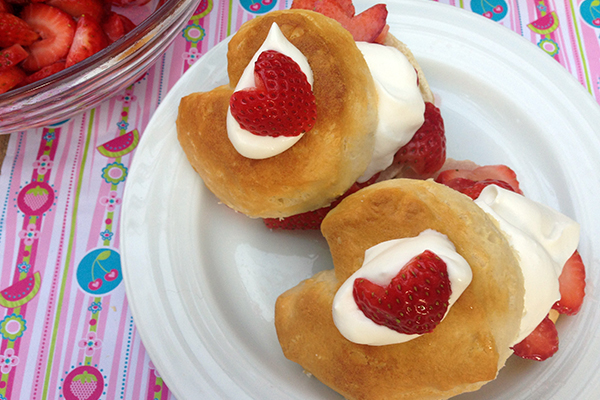 Individual heart-shaped desserts couldn't be easier using refrigerated canned biscuits filled with fresh, sweetened strawberries and whipped cream.

Serves 8
1 (16 oz.) can refrigerated biscuits (8 biscuits)
1 lb. fresh strawberries
2 Tbsp. sugar
Ready-made whipped cream or make your own (recipe below)

Slice strawberries and place in a bowl. Stir in sugar and let sit for 30 minutes until strawberries soften and juices are released.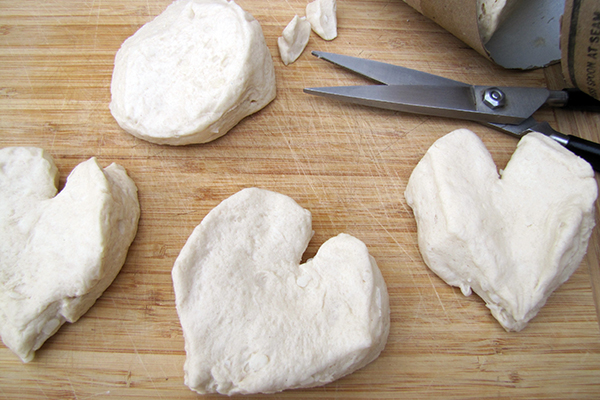 Preheat oven to 350° F. While strawberries are softening, cut biscuit dough rounds into hearts by snipping a deep "V" into the top and forming the bottom into a point. Bake biscuits per package instructions.

Cut biscuits in half, spoon in strawberries and top with whipped cream (about 4 Tbsp.). Close biscuit and add more whipped cream on top along with strawberry garnish, if desired.


Homemade Whipped Cream (optional)
1 cup heavy cream
2 Tbsp. sugar
1 tsp. vanilla

Combine all ingredients in a large bowl and use electric hand mixer to beat until stiff peaks form. Makes 2 cups.
---
"Cooking with Trader Joe's: The 5 Ingredient Cookbook," is the latest of the independent Trader Joe's cookbook series, sold at bookstores everywhere and at www.cookingwithtraderjoes.com.
Published February 2017