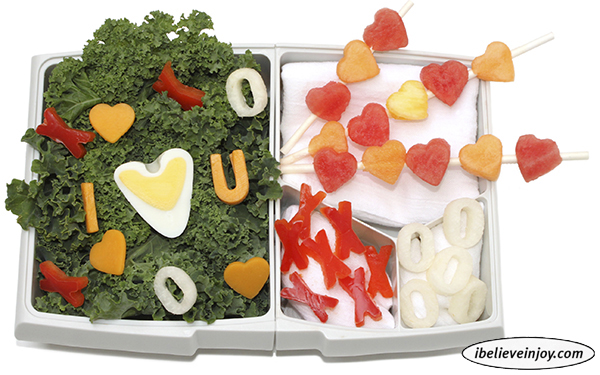 Give your child this healthy Kale Salad Bento Box lunch with "candy hearts" for dessert.

Ingredients
Organic kale
Sweet red peppers
Jicama
Sharp Cheddar cheese
Organic, free-range hard-boiled egg
Seedless watermelon
Cantaloupe
Pineapple
Citrus salad dressing (recipe below)

Directions
1. Fill large section of Bento Box with chopped organic kale.
2. Prepare toppings using letter and shape cutters. Make X's, O's, one I, one U and hearts with red peppers, jicama and cheese.
3. Sprinkle a few toppings on kale (spell I "heart" U, if desired); fill two sections of box with additional shapes.
4. Find a DIY heart-shaped hard-boiled egg tutorial at www.ibelieveinjoy.com/heart-shaped-egg.
5. Cut ¼-inch slice of watermelon, cantaloupe and pineapple. Make hearts using shape cutters and put in last section of box. (Optional: place hearts on lollipop stick "skewers.")
6. Make citrus dressing (recipe below) and put in a portable, liquid-tight container.

Shaping hard-boiled eggs is not only a beautiful part of Japanese Bento Box art but eggs are also incredibly healthy. They are often called "nature's multivitamin!"

Citrus Salad Dressing
The sweet, refreshing taste of this dressing pairs well with crunchy, green salad.
3 T. squeezed orange juice (about 1 small orange)
2 T. raw organic unfiltered apple cider vinegar
½ T. organic extra virgin olive oil
1-2 teaspoons raw organic honey
Dash sea salt and fresh cracked pepper
Combine all ingredients and give it a stir. Drizzle over salad.

----------
San Diego mom blogger, Joy Brownlee, enjoys making allergy-friendly snacks with her daughters (ages 2, 4 and 7). Find more recipes at www.ibelieveinjoy.com.
Published: January 2015