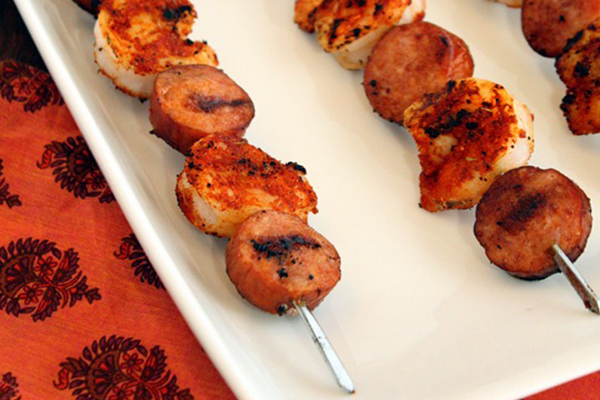 Looking for something delicious to make this summer? Ramona's recipes for kabobs, lemon orzo and homemade salad dressing are sure to satisfy your family on a warm summer evening. The meal is nice enough to serve to guests, too!

Shrimp and Sausage Kabobs
You'll Need:
3/4 cup olive oil
Some fresh thyme (2 -3 tbsp)
3 large garlic, crushed
1/2 tsp crushed red pepper (I use Filippi's Pizza Grotto's—the best stuff on earth. Use less if you don't want it spicy)
32 large uncooked shrimp, deveined, peeled, rinsed & patted dry (I leave the last bit of tail on)
2 lbs Andouille sausage or other fully cooked sausage, cut 3/4" thick (I use spicy sausage from Costco)
Preparation:

In food processor, blend olive oil, thyme, garlic and crushed red pepper. Pour into a zip lock and add shrimp.

Let marinate for 2+ hours.

If using bamboo skewers, don't forget to soak them in water for 1/2 hour before using. Make skewers, alternating one shrimp, one sausage. Sometimes I add chunks of bell pepper, mushroom or onions. These can be assembled one day in advance on metal skewers. Refrigerate and save the marinade to baste while grilling.

Grill for about 8 minutes.

Serve with a green salad and Lemon orzo.
---
Lemon Orzo
Ingredients:
5 c chicken broth
2 cups orzo

Bring broth to a boil, then add pasta. Cook for 9-10 minutes; then drain.

2 tsp lemon zest
4 tsp olive oil
2 Tbsp lemon juice
1/8 cup chives

Toss the above ingredients with pasta. Sprinkle parmesan cheese on top and serve.
---
Homemade Ranch Dressing (for green salad)

Ingredients:
1/3 cup sour cream
1/3 cup mayonnaise
1/3 cup buttermilk
1 1/2 tsp ranch salad dressing powder
1/4 tsp garlic powder
1/4 tsp onion powder
1/2 tsp dried parsley flakes
1/8 tsp salt
2 pinches pepper
1/8 tsp paprika
dash or two of cayenne pepper


Directions:
Mix all with a whisk, add more buttermilk until desired thickness, but keep in mind, it will thicken in refrigerator. Keep until buttermilk or sour cream expiration.

(For the salad, I use whatever I have in the refrigerator: green/purple lettuce, kidney beans, garbanzo beans, cucumber and cherry tomatoes, cabbage, carrots, etc.)
---------------------
Ramona Warner is a San Diego Family marketing representative. She also loves to cook!
Published: June 2014