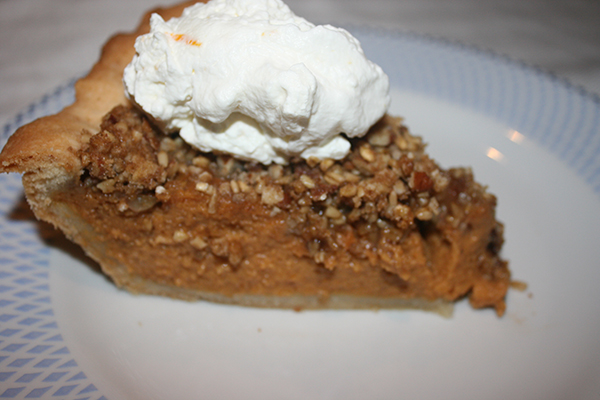 Love pumpkin pie, but want to kick it up a notch? Try this delicious recipe featuring a sweet, nutty streusel topping.

Pie Filling
2 eggs, lightly beaten
2 cups pumpkin
¾ cup sugar
½ tsp. salt
1 tsp. cinnamon
½ tsp. ground ginger
¼ tsp. ground cloves
12 oz. can evaporated milk
9-inch pie shell, unbaked

Streusel Topping
¼ cup packed brown sugar
2 tbsp. flour
2 tbsp. butter, softened
½ cup chopped pecans
½ cup quick oats

Whipped Cream
3 heaping tsp. powdered sugar
1 cup heavy whipping cream

Blend all pie filling ingredients with an electric mixer. Pour into unbaked pie shell and bake at 425 degrees for 15 minutes, then at 350 degrees for 15 minutes. Meanwhile, combine all streusel topping ingredients. After removing pie from oven, top with streusel mixture and bake for an additional 25-30 minutes, or until done. Cool for at least an hour.

Beat whipping cream and powdered sugar with an electric mixer until soft peaks form. Put a dollop on each pie slice when serving.
----------
Recipe provided by Ramona Warner, a local mom and expert party hostess.

Published: October 2014