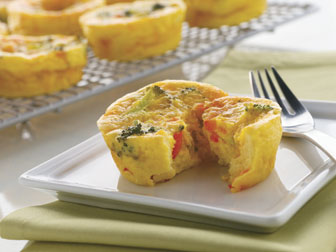 There are dozens of ways you can celebrate moms and the women in your life - get creative and give her a Mother's Day she'll never forget.
Crustless Broccoli and Cheddar Mini Quiches
Makes 12 Mini Quiches
1 can (12 fluid ounces) Nestle Carnation Evaporated Lowfat 2% Milk
3 large eggs, beaten
2 tablespoons all-purpose flour
1/4 teaspoon salt
1/4 teaspoon ground black pepper
2 cups (8 ounces) shredded mild or sharp cheddar cheese
2 cups chopped, frozen broccoli, thawed and drained
1/2 cup chopped red bell pepper

PREHEAT oven to 350 degrees F. Grease and lightly flour twelve 2 1/2-inch muffin cups.

WHISK evaporated milk, eggs, flour, salt and black pepper in medium bowl until blended. Stir in cheese, broccoli and bell pepper. Spoon 1/4 to 1/3 cup of mixture into each prepared muffin cup, filling almost to rim.* Stir mixture frequently to evenly distribute ingredients.

BAKE for 23 to 28 minutes or until knife inserted near centers comes out clean and tops are lightly browned. Cool in pans for 15 minutes. Run knife or small, flat spatula around inside edges of muffin cups. Carefully remove quiches.

*NOTE: Number of quiches will depend on the size of muffin cups. Bake time may need some adjusting.

TIPS: Quiches can be made ahead and frozen. To reheat, place on baking sheet and bake in preheated 325 degrees F oven for 25 to 30 minutes or, place 2 to 4 quiches on microwave-safe plate and microwave on MEDIUM-HIGH (70%) power for 2 1/2 to 5 minutes or until hot.
For more memorable recipes, visit TheCookingMilk.com.
-----------