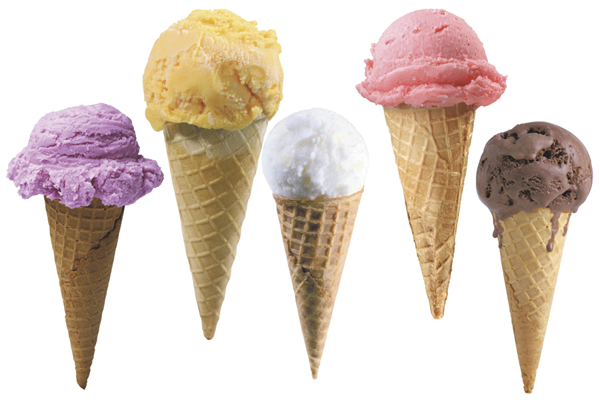 There's nothing better to eat than ice cream on a hot summer night, or cold winter night, or after dinner! Try making your own ice cream and experiment with different flavors. This recipe is easy and fun for kids.
Not sure about making your own ice cream? Indulge in some of San Diego's awesome frozen treats! Here's a list of some of our favorites: Frozen Treats that Beat the Heat.
WHAT YOU NEED:
1 cup milk
1 cup whipping cream
1/2 cup sugar
1/2 teaspoon vanilla
salt
large (2-pound, 7-ounce) coffee can with a plastic lid
small (1-pound) coffee can with a plastic lid
some ice

HOW TO MAKE IT:
• Check with a grown-up before you start.
• First you'll need to freeze both of the coffee cans overnight.
• The next day, mix the milk, cream and sugar together in the small coffee can.
• Put the lid on and place it inside the larger can.
• Pack the ice into the larger can around the smaller can, and sprinkle with salt so that it makes your coffee can ice cream maker really cold.
• Put the lid on the larger coffee can and start rolling it. It takes a while so be patient.
• Replace the ice when it starts to melt, and open up the can and scrape the mixture from the sides once in a while.
• Keep rolling until it's thick.
Recipe from PBS Kids.
Published: July 2012