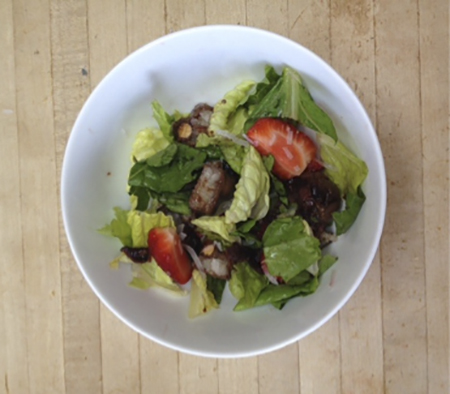 Anyone can put Snickers in brownies and M&Ms in cookies, but have you ever made a salad or parfait with leftover Halloween candy? Try these easy recipes.
Almond Joy Salad
Calling all Almond Joy lovers! Ever thought about tossing your favorite coconut candies into a refreshing salad? Whoa. You could almost call it healthy.

Serves 4
Ingredients

5 1/3 cup romaine lettuce, shredded or torn

12 strawberries, washed, stemmed & quartered

8 regular-sized Almond Joys, quartered

4 tbsp. shredded coconut

4 tbsp. dried cranberries

4 tbsp. light brown sugar

8 tsp. granulated sugar

¼ cup water

Directions
Bring cranberries and water to boil in a saucepan; boil for 30 seconds.
Add brown sugar and stir. Then add granulated sugar.
Sauté at a low temperature for 10 minutes.
Meanwhile, put lettuce, strawberries, Almond Joys and coconut in a medium sized bowl and toss together.
Remove cranberry mixture from heat. Drizzle a couple spoonfuls over salad.
Drain cranberries from remainder of liquid.
Toss warm cranberries into the salad and enjoy!
-----------------------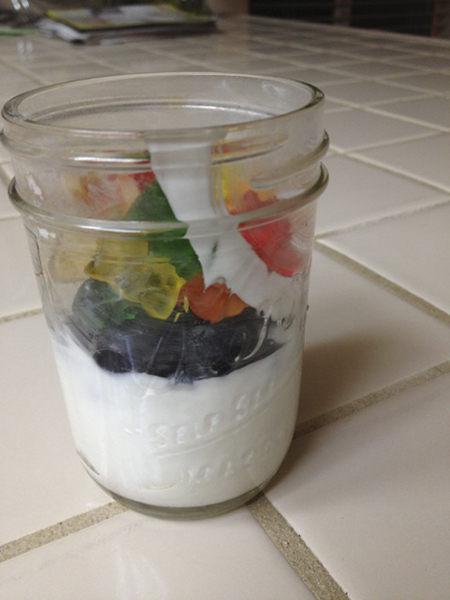 Post-Halloween Parfait
Add leftover gummy bears to this simple and tasty parfait for a perfect sweet treat!

One serving

Ingredients
1/3 cup of plain or vanilla yogurt (not Greek)
1/3 cup of blueberries
1/4 cup gummy bears

Directions
Spoon half the yogurt into a 6-ounce (preferably clear) container. Top with half the blueberries and half the gummy bears. Repeat layers and enjoy!

Optional: Sprinkle chocolate chips or drizzle honey on top. Yummy!

>> Check out our Family Recipes for more great recipes, or check out our

pinterest boards for more great recipes.
-----------------------
Lorea Mendiguren is a junior at the Academy of Our Lady of Peace and part of the academy's Culinary Club Council. She loves trying out new recipes to satisfy her ever-present sweet tooth.
Published: November 2014