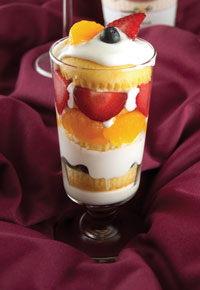 Try this fruit trifles recipe for Valentine's Day. It's such an easy recipe, the kids can help out!
Cupcake Fruit Trifles with Vanilla Mascarpone Custard

••••••••••••••••••••••••••••••••••••••••••••••••••••••••••••
16 ounces mascarpone cheese
1 pint Graeter's Vanilla Ice Cream, thawed, refrigerated
1 quart heavy cream, whipped to soft peaks
4 to 6 cups of fruit: raspberries, strawberries, blueberries or oranges
Sprinkle of sugar
20 yellow cupcakes, using recipe of choice, remove liners & cut into equal thirds, horizontally
20 beverage glasses, 6 to 9 ounces
••••••••••••••••••••••••••••••••••••••••••••••••••••••••••••
PLACE the mascarpone cheese and ice cream in a mixing bowl and whisk until smooth. Do not over mix.
FOLD whipped cream into mascarpone mixture, cover and refrigerate until ready to assemble trifles.
SPRINKLE fruit with a small amount of sugar, to create a syrupy consistency.
To assemble trifle:
PLACE a small amount of custard in bottom of glass. Add some fruit, followed by the bottom third of the cupcake. Continue to layer custard, fruit and cupcake slices, using three cupcake slices per glass.
COVER with plastic wrap and refrigerate until ready to serve. Garnish with fruit just before serving. Note: it is best to make the trifle a few hours before serving, or the day before.


Recipe courtesy of Graeter's. To find Graeter's at a grocery store near you, or to order online, visit www.graeters.com.