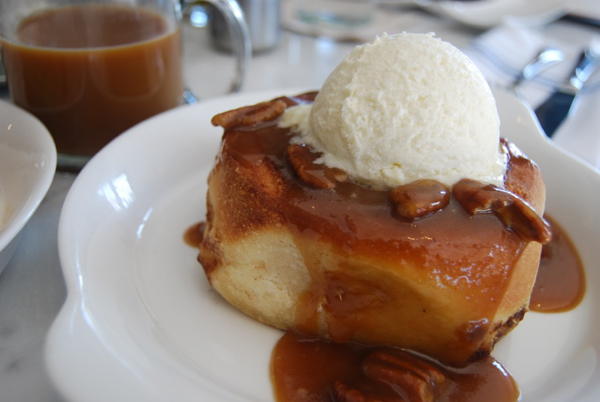 Chef Matt Gordon's cuisine dazzles diners every day at his three San Diego restaurants—Solace & the Moonlight Lounge, Sea & Smoke and Urban Solace. (Author's note: the warm cheese biscuits with orange-honey butter and smoked tomato jam at Urban Solace are to die for!) This season, dazzle your family with the sweet smell of cinnamon, sugar and butter pecan by making Chef Matt's signature recipe for everyone's favorite breakfast treat.
Cinnamon Rolls

Preheat oven to 375°. Makes 10-15 rolls.

Ingredients
1½ c. milk
½ c. buttermilk
¼ c. butter
1 c. sugar
1½ T. yeast
2 eggs
1 egg yolk
6½ c. all-purpose flour
½ T. kosher salt
½ t. cinnamon
⅛ tsp. nutmeg

Place the milk, buttermilk and butter in the microwave until the butter is melted and the milk is between 105° and 115°. Mix ½ of the sugar into the warmed milk mixture and add the yeast. Whisk to incorporate and let sit for 5 minutes to let the yeast bloom. Pour into the empty bowl of a mixer. Whisk in the eggs, half the yolk and the remaining sugar. Add the flour, salt and cinnamon to the liquid mixture. Using the hook attachment, mix on low speed for 4 minutes.
Place batter in a greased bowl. Lightly oil the top of the dough and cover with plastic. Let rise for 1-2 hours or until it is just about doubled. Dough should not over-rise.

Filling:
1 c. butter (whipped or room temperature)
1⅓ c. brown sugar
¼ c. ground cinnamon
5 shakes of nutmeg

Egg Wash
Use an egg or egg white to then brush over the top to seal the roll up. (You can always use the remaining half from the one yolk for the egg wash.)

Mix the sugar, cinnamon and nutmeg together. Roll the dough out in a rectangle. Dough should be about ¾" thick. Liberally spread top of dough with the butter and then the cinnamon sugar mixture. Leave a 1" "clean" strip at the top of the rectangle so that you can brush it with egg wash to form a seal after you roll it. Gently, but tightly roll the rectangle into a log (without stretching the dough too thin) to form a large log. Cut into 1" thick slices. Place on a buttered sheet pan. Spread apart for round rolls or put in a greased Pyrex baking dish for square-shaped rolls. Let proof at room temp for another 30 to 40 minutes prior to baking. (If using a convection oven, bake at 325°) until lightly browned. Top with cream cheese frosting.

Cream Cheese Frosting
1 lb. butter
1 lb. cream cheese
1 lb. box of powdered sugar
1 tsp. vanilla
1 tsp. kosher or sea salt

Let butter and cream cheese come to room temperature. In a mixer with a whisk attachment, whip the butter and cream cheese together until it starts to get fluffy.
Add sugar on low speed and vanilla then salt. Return to high speed and whip for 4 minutes. It should take on a pearly sheen.