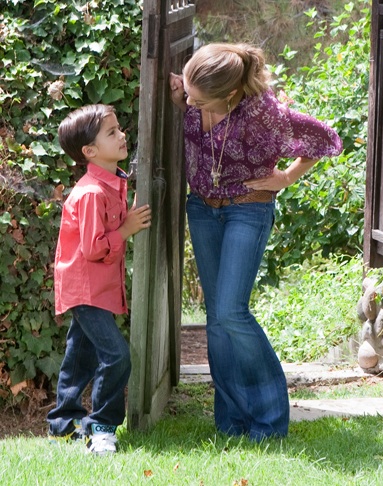 Recipe from Food Network's Chef Marcela Valladolid: Game Hens in Apricot, Tequila, and California Chile
3 cups chicken broth or more, as needed
4 tablespoons (½ stick) unsalted butter, melted
4 tablespoons golden tequila
2 2-pound Cornish game hens, thawed
3 California chiles, stemmed and seeded
½ cup apricot marmalade
Salt and freshly ground black pepper
Fresh apricots halves, for garnish
Preheat the oven to 350°F.
Mix ½ cup of the broth, 2 tablespoons of the melted butter, and 2 tablespoons of the tequila in a small glass bowl. Using a kitchen syringe, inject the mixture all over the flesh of the hens, (about ½ inch deep into the flesh). If the butter in the mixture solidifies, warm in the microwave.
Put the chiles and 2 cups of the broth in a small saucepan. Bring to a boil over high heat. Turn off the heat. Let stand for 5 minutes to soften the chiles. Transfer to a blender and puree until smooth. Strain the chile mixture into a small bowl, pressing on the sieve to extract as much solids as possible. Discard whatever is left on the sieve.
Mix ¼ cup of the marmalade and ¼ cup of the chile mixture in a medium bowl. Season heavily with salt and pepper. Rub the mixture all over the hens, working some of it between the breast and the skin. Put the hens, preferably on a rack, set in a large roasting pan. Add the remaining ½ cup broth to the roasting pan.
Roast for 1 hour, or until a thermometer inserted into the thigh registers 160°F. Baste with the pan drippings every 20 minutes and add more broth if the juices begin to dry out.
Transfer the hens to a platter. Strain the roasting pan juices into a medium saucepan. Add the remaining 2 tablespoons tequila, ¼ cup apricot marmalade and chile mixture. Bring to a boil over high heat. Reduce the heat and simmer for 5 minutes, or until the sauce thickens slightly. Season with salt and pepper to taste. Pour the sauce over the hens and serve. Garnish the platter with fresh apricot halves.