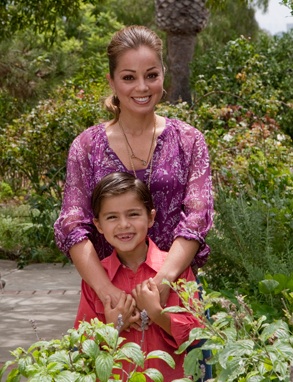 Recipe from Food Network's Chef Marcela Valladolid ~ Exclusive to San Diego Family
Easy Carrot Cake
Serves 12-14
Dry ingredients:
2 cup all purpose flour
1 teaspoon baking soda
1 teaspoon baking powder
1/4 teaspoon salt
2 teaspoons ground cinnamon
1 cup chopped walnuts

Wet ingredients:
4 eggs
1 cup vegetable oil
1 cup granulated sugar
2 cup shredded and peeled carrots
1 cup canned pineapple, diced in small chunks, drained
Non-stick cooking spray
1/2 cup ground walnuts for garnish
Preheat oven to 350 degrees.
Place all dry ingredients in a large mixing bowl. Using a spatula, mix until all are evenly incorporated.
Place eggs in a mixer and whisk for abut 10 seconds. Turn power off, and add vegetable oil. Turn back on to medium speed, and slowly add sugar. Whisk for 20 more seconds and add carrots. Add pineapple. Continue whisking for another 10 seconds on medium speed. Turn power off, add dry ingredients slowly, turn back on to medium speed and mix for 1 more minute. Stopping frequently to clean the sides of the bowl with a spatula. This will yield approximately 5 cups.
Line the bottom of 2 10-inch cake pans with parchment paper. Spray the sides with non stick cooking spray. Place 2 1/2 cups of batter in 1 of the cake pans. Place the remainder 2 1/2 cups of batter on the other cake pan. Put both cake pans in preheated oven. Bake for 25 minutes. Cut the top part of the cake to even it out.

For the frosting:
8 oz. of cream cheese, room temperature
1 teaspoon vanilla extract
3 tablespoons unsalted butter, room temperature
2 tablespoons powdered sugar
Place all ingredients for frosting in an electric mixer. Using the whisk insert, whist ingredients until smooth and fluffy, about 5 minutes. Using 1/2 cup of frosting spread on top of one of the cakes with a spatula. Stack the second cake directly over the bottom one. Spread the rest of the frosting over all of the cake (top and sides). Add ground walnuts to the side of the cake. Can be made one day ahead.

Learn more about Chef Marcela and her involvement in our community!